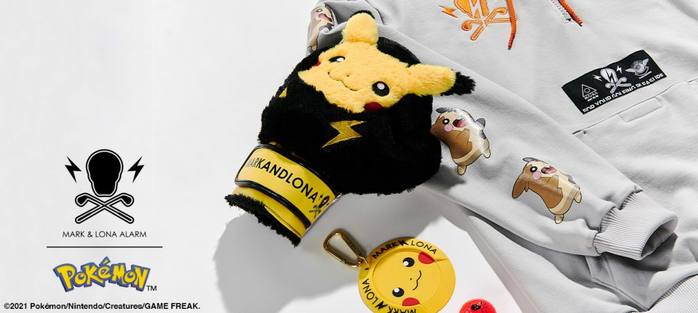 The golf apparel brand MARK & LONA, developed by Cube Co., will launch its latest collection from the FUSION-themed ALARM collection with a bold design of Pikachu and Morpeko, featuring a street style, on Wednesday, September 8th, 2021, exclusively at its official online store and its Roppongi Hills store in Japan.
MARK & LONA's ALARM collection is available only in a limited number of stores. This season's collection includes the popular Pokémon series, the brand's first collaboration item with Back to the Future, and ALARM's original items made of environmentally friendly sustainable materials.
In addition to the short-sleeved polo shirts and shorts with the original Himeguma pattern printed on them, which were released in June, the lineup this time includes three new models: an oversized hoodie with Pikachu and Morpeko designs, a boxing glove-shaped head cover featuring a fuzzy Pikachu, and a Pikachu face target holder with a very cute round Pikachu face.
We hope you enjoy this new collection of apparel from MARK & LONA, which has a unique presence with its innovative design and lineup, and its distinctive Pokémon design.
P.M 8 Tech Fleece Hoodie
Oversized hoodie with Pikachu and Morpeko design. It features an embroidered ALARM skull on the right chest, an embroidered logo on the left chest, the ALARM name on the pocket, and "ML/POKÉMON" on the side of the hood.
With a Morpeko design on both sleeves and a big size Pikachu foam print on the back, this piece has a great impact on the eye. The body and shoulders are roomy for an oversized silhouette with a trendy feel. The main body is made of nylon with a sporty look, lightweight and a stretchy lining. The surface has a soft cotton feel.
In addition, the separate fabric is made of nylon with a special PU coating for high performance moisture permeability. This material prevents dampness while keeping you warm, so you can play comfortably.
K.M.O Pikachu Head Cover
Boxing glove-shaped head cover from the Pokémon collection. The fuzzy Pikachu is decorated on the boxing glove head cover. The design matches ALARM's Inazuma mark and is a humorous item. The Velcro belt part has the skull mark and logo of MARK & LONA ALARM.
The size is the same as a real boxing glove, and you can even put your hand in it. It also has a firm cushioning to hold your precious golf driver's head firmly in place. The palm side is made of silver metallic synthetic leather, and the catchy logo gives it a sporty look.
Pikachu Target Holder
Pikachu face target holder from the Pokémon collection. The round Pikachu face is very cute, and the ALARM Inazuma mark is the key. It comes with a carabiner so you can hang it from your caddy bag, cart bag, or anywhere else you like. The back of the card has a writing space that can be used as a name card. After writing on it, please protect it with the attached transparent film to prevent blotting.
Prices:
P.M 8 Tech Fleece Hoodie | MEN - 47,300 yen with tax
K.M.O Pikachu Head Cover - 25,300 yen with tax
Pikachu Target Holder - 7,700 yen with tax
Himeguma Polo | MEN - 36,300 yen with tax
Himeguma Shorts | MEN - 38,500 yen with tax
Source:
https://www.markandlona.com/21w9_pokemon/