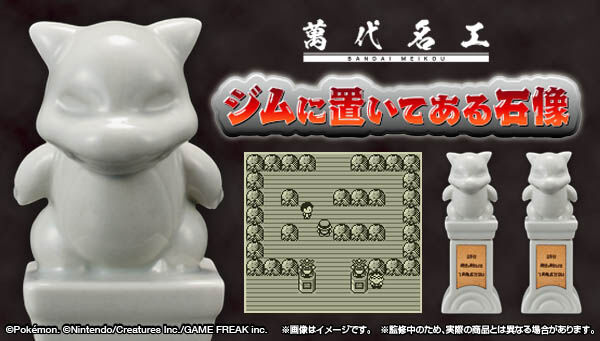 Premium Bandai has announced a new product called the
Bandai Master Craftsman Pocket Monsters Stone Statues in the Gym
which are Porcelain salt and pepper shakers based on the statues at the entrance of the gyms. It costs 4,620 yen (tax included).
High resolution product pictures have been added to an Imageboard thread
.
Product Description:
This product is part of Bandai's "Master Craftsman" series of porcelain products. This product is the stone statues that appears in the Pokémon games and are placed at the entrance of a gym. It is high quality with attention to detail. (2 pieces in 1 set).
Product Details:
Bandai Master Craftsman Pocket Monsters Stone Statues in the Gym
萬代名工 ポケットモンスター ジムに置いてある石像
Set Contents: 2 Pieces - Salt and Pepper Shakers
Product Materials: Porcelain, PE
Size: approx. H100 x W50 x D40mm
Production Area: Made in China
Price: 4,620 yen (tax included)
Pre-orders start: September 13, 2021, 11:00 a.m. JST
Pre-orders end: October 4, 2021 at 23:00 JST
Delivery date: Scheduled to be shipped in February 2022
Source:
https://p-bandai.jp/item/item-1000163308/