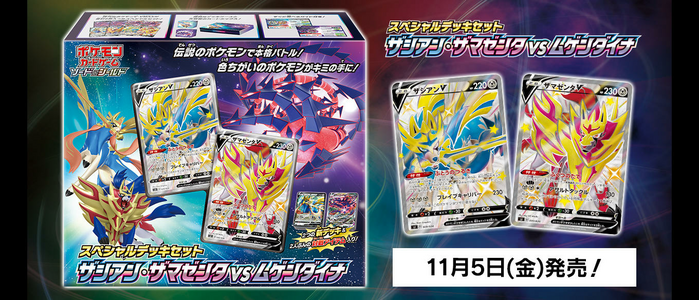 This set allows you to enjoy playing with Zacian and Zamazenta as they battle Mugendina, recreating the experience of the games Pokémon Sword and Shield. With a full set of items to play the Pokémon Card Game, it's the perfect end-of-the-year gift!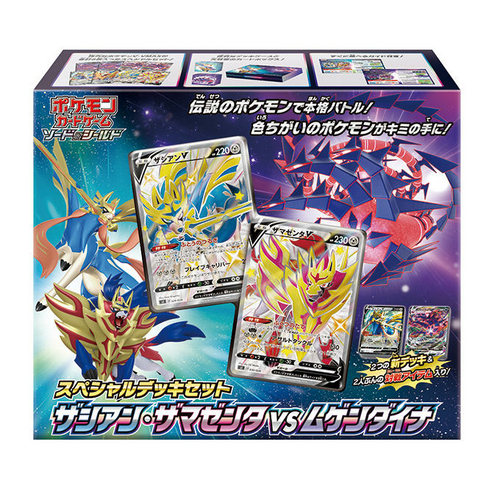 Alternate-colored Zacian and Zamazenta are now available as Pokémon V! You can get them by purchasing this product! Zacian V is an offensive Pokémon V with the powerful move Brave Blade and the Ability Intrepid Sword while Zamazenta V is a defensive Pokémon V that fights with the trait Dauntless Shield and the move Assault Tackle!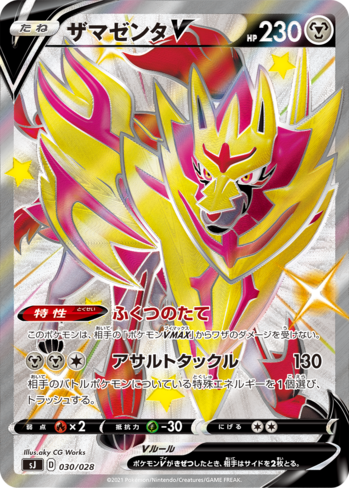 Contents:
The contents include two Deck Cases, two Pokémon Coins, a sheet of Damage Markers, a Playmat, two Player's Guides, a Damage Case, and a Card Box. With these items, you can play more smoothly, carry your Pokémon cards more conveniently, and play more comfortably!
Product Details:
Pokémon Card Game Sword & Shield Special Deck Set: Zacian Zamazenta vs Mugendina
ポケモンカードゲーム ソード&シールド スペシャルデッキセット ザシアン・ザマゼンタ vs ムゲンダイナ
Release date: November 5th, 2021
Suggested retail price: 5,500 yen (tax included)
1 x Zacian V and Zamazenta V deck (60 cards)
1 x Mugendina VMAX" deck (60 cards)
2 x Deck Cases (4 dividers)
2 x Pokémon Coins
1 sheet x Damage / Marker
1 x Playmat
2 x Player's Guide
1 x Damage case
1 x Card box
Source:
https://www.pokemon-card.com/products/s/sj.html