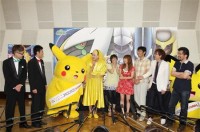 The yearly Pocket Monsters movie script reading for the press and public was conducted yesterday in Japan. In attendance this year was: Kii Kitano (北乃きい) who plays Sheena, Koichi Yamadera (山寺宏一) who plays Gishin, Masahiro Takashima (髙嶋政宏) who plays Damos, and Shoko Nakagawa (中川翔子) who plays the voice of Jagged-eared Pichu and sings the ending theme
Antenna of the Heart (心のアンテナ)
. Kunihiko Yuyama (湯山邦彦), the director of the movie and Hiroyuki Baba (馬場裕之) and Hiroshi Yamamoto (山本博) from Pokemon Sunday were also on hand to promote the upcoming movie that is released in Japanese theaters on July 18th. Ryuuji Akiyama (秋山竜次) dressed up as Akihiro Miwa (美輪明宏) who plays the voice of Arceus and was not at the press conference.
Images from the event
have been added to the imageboard. Two Videos from the press conference are also available on the
offical website.
Sources:
http://blog.pokemon-movie.jp/2008/2009/06/post_280.html
and
http://www.pokemon-movie.jp/movienews/