Ultra PRO has revealed the
Pokémon First Partner Accessory Bundle
which will be released in 2022.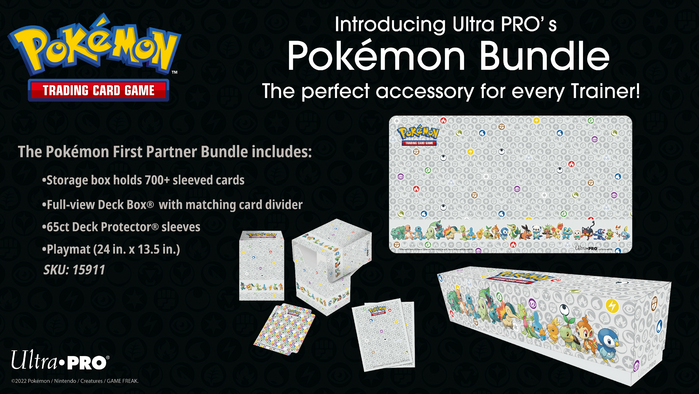 First Partner Accessory Bundle for Pokémon
This special bundle includes one playmat, 65 Deck Protector® sleeves, and one Deck Box® with a matching deck divider. All accessories are packaged in a themed card storage box which holds up to 700 cards sleeved in Ultra PRO sleeves. Accessories feature iconic Pokémon energy symbols and popular starter Pokémon represented from Kanto to Galar. regions. This bundle makes an excellent gift and is a must-have for any Pokémon trainer or collector.
Complete trading card accessory bundle for Pokémon
Storage box holds 700+ sleeved cards
Full-view Deck Box® with matching card divider (holds 80+ standard size TCG cards)
65ct Deck Protector® sleeves made with ChromaFusion Technology™ to prevent delamination
Playmat (measures approximately 24 in. x 13.5 in.)
UPC: 074427159115
SKU: 15911
Product Pictures:
Source:
https://www.ultrapro.com/product_info.php?products_id=17769