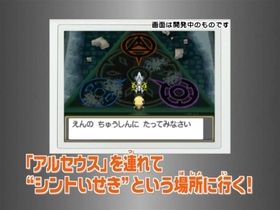 The latest episode of Pokémon Sunday,
Tokiwa Gym! The Final Badge! / The Big Investigation of 'Zones' Around the World / The Arceus Battrio Puck (「トキワジム!さいごのバッジ!」 「世の中の「ゾーン」を大調査!」 「アルセウスのバトリオパック」)
, aired on Sunday in Japan.
In today's episode of Pokemon Sunday, Robert conducts various tasks that they have done in the past. First they each took turns seeing from how high they were willing to drop a pan on their head. Baba raised the pan over 4 meters high and then it hit him on the head, winning the challenge. Robert then arrived at a pool where they spun around in a chair and attempted to cross a floating bridge.
New Movie 12 screenshots featuring Chikorita were shown as well as information on the Cynthia and Arceus event which was revealed last week on Oha Suta. Sableye and Golgo were also seen taking a walk.
A Melee! Pokemon Scramble code was announced today that unlocks a Probopass. Visit the "Unknown Recruiting" area, (the red building), and enter the code to unlock the Pokemon.
Melee! Pokemon Scramble
Pokémon Sunday Probopass
Code:9986-3607
Strength: 1720
Attack: Magnet Bomb (マグネットボム)
A separate page has been created to keep track of all the passwords for the Pokemon. It will be updated as new codes become available.
Click here to visit the Password page.
Pictures
from this episode have been added to the
episode guide
. You can can also
comment and discuss
this episode. Also be sure to rate this and other episodes in the
episode guide
.