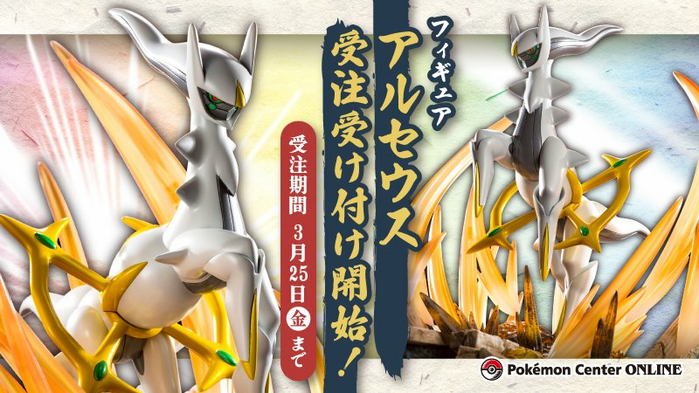 The Pokémon Center has revealed a new Arceus Figure produced by Kotobukiya which will be available to pre-order from February 25th, 2022 at 10:00 until March 25th, 2022 at 23:59 JST. The Figure costs 27,500 yen (tax included) and will ship in Japan in November 2022.
High resolution images of the figure have been added to an Imageboard thread
.
Product 360°
Product Description:
The Mythical Pokémon Arceus from Pokémon LEGENDS Arceus is now available as a figure! A cool recreation of Arceus unleashing its Judgment! It's a powerful figure, standing about 29cm tall! It comes with a gorgeous pedestal!
Product Details:
Production:
Kotobukiya
Illustration by:
Kazuma Koda
Product Code:
4521329370965
Order period:
February 25, 2022 at 10:00 until March 25, 2022 at 23:59
Release Date:
Shipping in November 2022
Size and weight:
28.5×20×23:cm 1,600g
Material:
PVC (non-phthalate) / ABS
Price:
27,500 yen (tax included)
Country of origin:
China
Sources:
https://www.pokemoncenter-online.com/?p_cd=4521329370965
,
https://twitter.com/kotobukiyas/status/1497013516896669732
and
https://twitter.com/Pokemon_cojp/status/1497013517899161609