Build-A-Bear has announced that the Online Exclusive Leafeon Bundle is now available to order. Leafeon's online exclusive bundle includes its cape, sleeper and 5-in-1 sound too! The Online Exclusive Leafeon Bundle costs $65 USD.
Pictures of this plushie bundle have been added to an Imageboard thread
.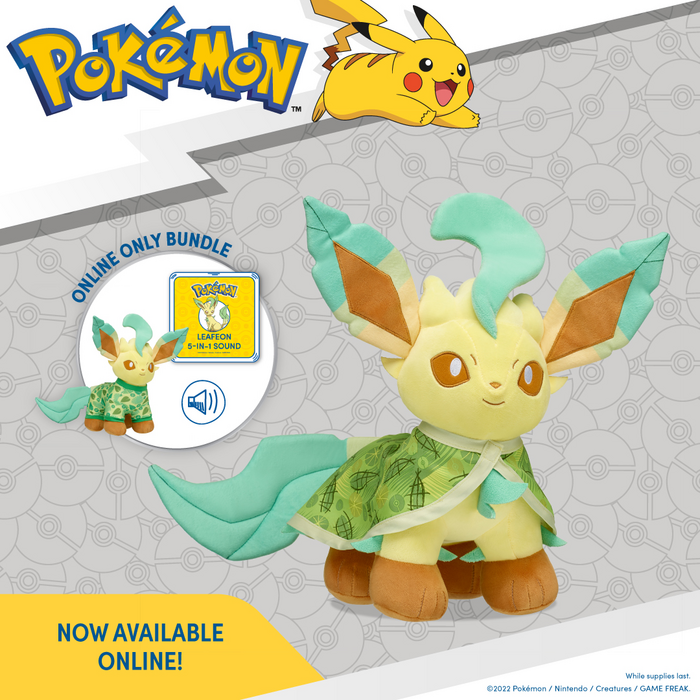 Build-A-Bear - Online Exclusive Leafeon Bundle
Fun adventures are sure to sprout and bloom with Leafeon by your side! This unbeLEAFably cute Eevee Evolution is the newest Grass-type Pokémon at Build-A-Bear Workshop. Leafeon is ready to soak up the sun with its yellow fur, brown paws, leafy tail and large ears. Pokémon Trainers will love this exclusive bundle, which includes Leafeon's green cape, matching sleeper and 5-in-1 sound chip!
Price includes:
Glaceon with 5-in-1 Sound
Glaceon Cape
Glaceon Sleeper
Source:
https://www.buildabear.com/online-exclusive-leafeon-bundle/330258_30195_30201.html