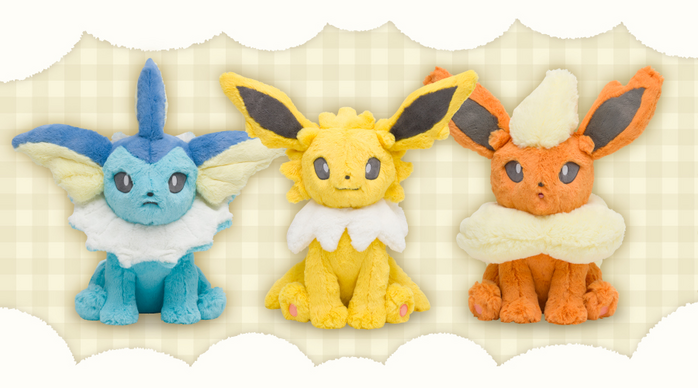 On Saturday, October 22nd, 2022, the fifth installment of the Fluffy Huggable Plush series will be available at the Pokémon Center! The fifth volume of the lineup features the Eievui evolutions Showers, Thunders, and Booster. Be sure to check out the soft and fluffy huggable plushies! The Pokémon Center Online will begin selling the products starting on October 20th, 2022 at 10:00 a.m.
Please note that the release of this product may be postponed or cancelled due to the situation in the production area. Please be aware of this beforehand.
At the Amazon.co.jp Pokémon Store, pre-orders for these plushies will be starting on October 22nd, 2022 and sales starting on October 29th, 2022, but due to the limited number of products available, they may be sold during the pre-order period.
All Pokémon Center stores will carry this line. There is a possibility that other Pokémon Stores will carry the product the week after the release date.
Item List (English):
Fluffy Huggable Plush - Showers - 3,960 yen
Fluffy Huggable Plush - Thunders - 3,960 yen
Fluffy Huggable Plush - Booster - 3,960 yen
Item List (Japanese):
ふわふわ抱きぬいぐるみ シャワーズ 3,960円
ふわふわ抱きぬいぐるみ サンダース 3,960円
ふわふわ抱きぬいぐるみ ブースター 3,960円
Source:
https://www.pokemon.co.jp/goods/2022/10/221014_to01.html