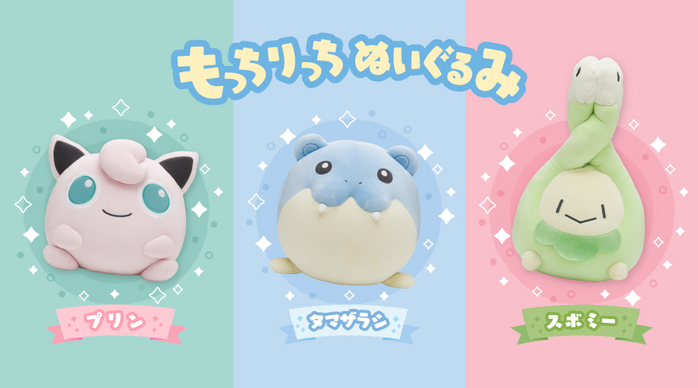 On Saturday, November 12th, 2022, the second installment of the
Springy Plushies (もっちりっちぬいぐるみ)
series, which focuses on a marshmallow-like soft touch to the plushies, will appear at the Pokémon Center! This time, Purin, Tamazarashi, and Subomie will make their appearance. Be sure to get your hands on these soft colored and cuddly plushies. The Pokémon Center Online will start selling them from November 10th, 2022 at 10:00 a.m.
Please note that the release of this product may be postponed or cancelled due to the situation in the production area and stores. Please be aware of this beforehand.
At the Amazon.co.jp Pokémon Store, pre-orders for these plushies will be starting on November 12th, 2022 and sales starting on November 19th, 2022 but due to the limited number of products available, they may be sold during the pre-order period.
Plushies
Items List (English):
Springy Plushie Purin - 4,620 yen
Springy Plushie Tamazarashi - 4,620 yen
Springy Plushie Subomie - 4,620 yen
Items List (Japanese):
もっちりっちぬいぐるみ プリン 4,620円
もっちりっちぬいぐるみ タマザラシ 4,620円
もっちりっちぬいぐるみ スボミー 4,620円
Source:
https://www.pokemon.co.jp/goods/2022/11/221104_to01.html