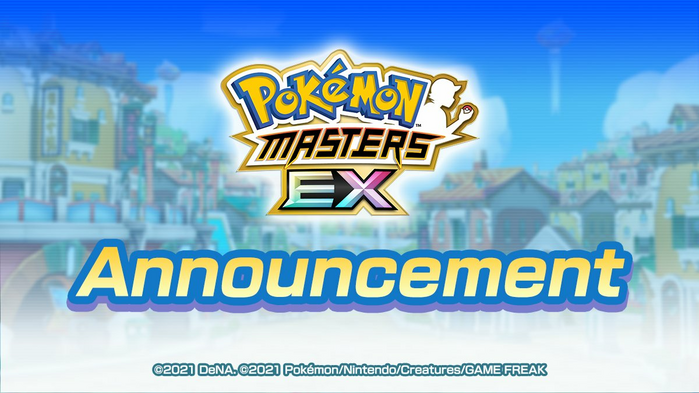 The producer of Pokémon Masters Yu Sasaki posted an open letter about the game on the Pokémon Master's official website. The letter addresses the upcoming changes to the game.
A Message from the Pokémon Masters EX Team (Vol. 42)
Greetings, Trainers.
We're the producers of Pokémon Masters EX, Yu Sasaki and Tetsuya Iguchi, here with a new message for you. Today, we'll focus on details about Rallies and events for the beginning of the new year.
Happy New Year!
Happy new year, Trainers. Thanks to your support, we're entering a new year in Pokémon Masters EX. The entire development team is dedicated to providing you with the best experience possible, so we hope you continue to enjoy your adventures on Pasio.
Story Event Gather Up! Dream Duo! Is Under Way!
Story Event Gather Up! Dream Duo! is now under way as of today, December 31, 2022. This year's theme is "a New Year's live show!" To go with the event, Lisia and Dawn will appear in the Sync Pair Scout as seasonal Sync Pairs wearing their concert outfits. Plus, Kali (Furisode Girl), a Laverre City Gym Trainer, will make her debut in this event as the apprentice of Valerie! You can team up with Kali (Furisode Girl) & Azumarill guaranteed by completing the event, so be sure to take it on.
Lisia (New Year's 2023) & Rapidash
Lisia (New Year's 2023) & Rapidash are a Fairy-type strike Sync Pair. Their A Battle Spectacular! Move raises their Attack and Speed by four stat ranks and increases their Physical Moves ↑ Next effect by 0 to 3 ranks at random. Because they have a Passive Skill that changes Normal-type Moves into Fairy-type Moves, they can use the powerful physical Giga Impact as a Fairy-type Move.
They also have a Passive Skill that applies the Supereffective ↑ Next effect to themselves after using their Sync Move so they can keep applying pressure after unleashing their Sync Move, making them capable of dealing major damage to opponents weak to Fairy-type attacks.
Dawn (New Year's 2023) & Oricorio
Dawn (New Year's 2023) & Oricorio are a Ghost-type tech Sync Pair. They have a Passive Skill that doubles the stat ranks their stats are raised by and another Passive Skill that deals additional damage to the target when Oricorio uses a move targeting that opponent.
Plus, their Perfect Dance! Move applies the Stat Reduction Defense effect to the allied field of play, restores their own HP by approximately 40% of their maximum HP, and raises their evasiveness by one stat rank.
Their Elegant Celebration Ghost Beam is a Sync Move that increases in power the more their stats are raised, making them a Sync Pair that can deal major damage by making good use of their allies' support.
Amazing Rallies for the New Year
New Year's Log-In Bonus
A Log-in Bonus offering New Year's Scout Tickets and up to 7,000 Gems is now available as of today, December 31, 2022. You can get 3,000 Gems on the first day and seven New Year's Scout Tickets on the seventh day of this Log-in Bonus, so be sure to log in every day.
One New Year's Scout Ticket lets you use the New Year's Poké Fair Ticket Scout one time, which offers you a chance to team up with the Fair-Exclusive Sync Pairs Sygna Suit Red, Sygna Suit Blue, and Sygna Suit Leaf.
Daily Battle New Year's Challenge
You can get amazing rewards such as New Year's Scout Tickets, Gems, and Battle Points by battling daily in this ongoing event. You can get a total of 16 New Year's Scout Tickets from this event, and in honor of the year 2023, you can get up to 23 New Year's Scout Tickets when combined with the New Year's Log-In Bonus.
Do your best to get all of the Tickets! On top of that, special battles will be available for three days only starting December 31, 2022.
You can take on the battles once a day for a total of three attempts and can get a total of 3,000 Gems from them, so we hope you play them every day.
A Special Sync Pair Scout to Celebrate the New Year
Three kinds of special Sync Pair Scouts are now available: 5★-Select Poké Fair Scout ×25 (A), 5★-Select Poké Fair Scout ×25 (B), and 5★-Select Special Scout ×15.
Each can be used one time only. In addition to letting you team up with lots of Sync Pairs, you can also choose one Sync Pair from the ones included in each individual Sync Pair Scout.
Some Fair-Exclusive Sync Pairs are included in the 5★-Select Poké Fair Scout ×25 (A) and 5★-Select Poké Fair Scout ×25 (B), and they have different lineups from last year, so be sure to check them out!
New Year's Gem Present! Grab Your Share of 200 Million Gems!
Just like last year, a gem giveaway is now under way. You have a chance to win 60,000 Gems as first prize! We were overwhelmed by the participation of all players during last year's giveaway, so this year we've revised the number of winners and will give away a total of 200 million Gems!
All players who log in to the game from December 31, 2022 at 10:00 p.m. to January 7, 2023 at 9:59 p.m. are eligible. You can check the results from your Present Box around January 11, 2023 to see if you've won. Enjoy!
Special Looks for the Trainer Lodge and Pokémon Center for the New Year
A limited-time expedition area and a Location for interactions have been added to the Trainer Lodge! Also, the Pokémon Center has received special decorations and background music to celebrate the new year. It's a little different from usual, so we hope you enjoy this special atmosphere in Pokémon Masters EX.
The Kalos Chapter of the Villain Arc Is Coming!
The next chapter of the Villain Arc, the Kalos Chapter, will begin on January 11, 2023! We hope you look forward to seeing which Sync Pairs take the stage and what kind of story will unfold! At the same time, Professor Sycamore & Xerneas will gain the ability to be raised to 6★ EX in the Battle! Friends from Kalos event. Holo Foils for Scrapbook Photos in the Trainer Lodge will be unlocked as well, so try to raise them to 6★ EX!
Longest Win Streak Ranking Added to the Legendary Gauntlet!
The Legendary Gauntlet will begin on January 18, 2023. The Legendary Pokémon that will be your opponents this time are Regirock, Latias, and Uxie! Hone your skills in the Legendary Arena and train the Sync Pairs you'll need to take these battles on!
Also, starting with this Legendary Gauntlet, you'll be able to see in-game rankings of the top 100 longest win streaks out of all players! There are no rewards to go with these rankings, but we hope that you'll try to aim for the top if you think you have what it takes!
Other Events
In addition to what we've told you about here, we also have several other events planned, including the return of a seasonal event, as well as a gear event, an Egg Event, and a mini event that highlights specific theme skills, so we hope you look forward to them.
Future Updates
We have a feature planned for next month's update that lets you customize the interior of the Trainer Lodge. More details are coming in our next message, so stay tuned.
We also have plans to revamp the interior of the Pokémon Center, as well as some of its features. We're hoping to make some exciting improvements, so stay on the lookout for future updates!
Our next message is scheduled for late January. In it, we plan to share information about new Sync Pairs and events for February.
We're always working hard to deliver updates and improvements that make the world of Pokémon Masters EX as fun as possible.
Until next time, thank you for playing Pokémon Masters EX.
Pokémon Masters Producer: Yu Sasaki
Operations Producer: Tetsuya Iguchi
Source:
https://pokemonmasters-game.com/en-US/announcements/Other_4120_5W_1