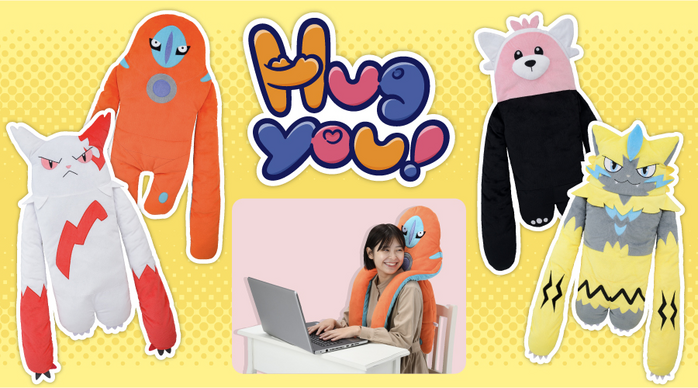 On Saturday, January 28th, 2023, the
Hug you! Plushies (Hug you! ぬいぐるみ)
series based on the theme of "I'd rather be hugged than hug!", will be available at the Pokémon Center! You can hang the plushie on your shoulders and enjoy the feeling of being hugged by a Pokémon. You can also hang the plushie on the back of a chair to display it! The lineup includes Zangoose, Deoxys (Defensive form), Kiterugma, and Zeraora. The Pokémon Center Online will start selling them on Thursday, January 26th, 2023 at 10:00 a.m.
Please note that the release of this product may be postponed or cancelled due to the situation in the production area and stores. Please be aware of this beforehand.
At the Amazon.co.jp Pokémon Store, pre-orders for the products will be starting on January 28th, 2023 and sales starting on February 2nd, 2023 but due to the limited number of products available, they may be sold during the pre-order period.
Items:
Items (English):
Hug you! Plushie Zangoose - 7,150 yen
Hug you! Plushie Deoxys (Defensive form) - 7,150 yen
Hug you! Plushie Kiterugma - 7,150 yen
Hug you! Plushie Zeraora - 7,150 yen
Items (Japanese):
Hug you! ぬいぐるみ ザングース 7,150円
Hug you! ぬいぐるみ デオキシス(ディフェンスフォルム) 7,150円
Hug you! ぬいぐるみ キテルグマ 7,150円
Hug you! ぬいぐるみ ゼラオラ 7,150円
Source:
https://www.pokemon.co.jp/goods/2023/01/230120_to01.html