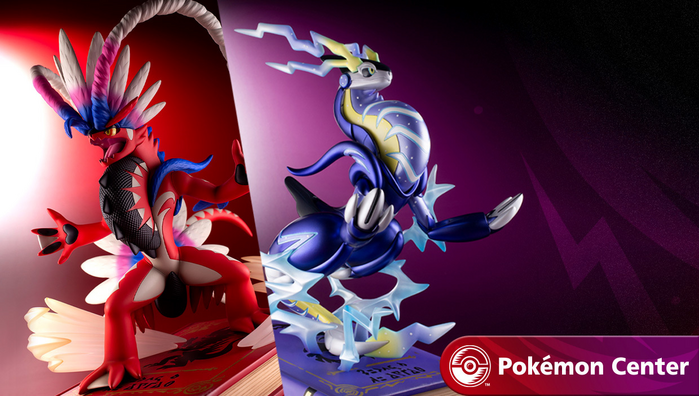 Paldean Pokémon come to life in extraordinary detail as Kotobukiya figures! The Legendary Pokémon Koraidon and Miraidon figures are available to preorder on the Pokémon Center USA/CANADA, UK and the Pokémon Center Online in Japan for $269.99USD, $350.99 CND, £229.99 or 29,700 yen each.
High resolution artwork and pictures of the figures have been added to an Imageboard thread
.
Pre-orders are open on the Pokémon Center Online from February 3rd, 2023 at 10:00 to March 6th, 2023 at 23:59 JST with shipping in early January 2024. US, Canada and UK orders are expected to ship in late March 2024.
Legendary Power from the Past
Discover the power of the Legendary Pokémon Koraidon as a collectible, display-ready figure from Kotobukiya! Featuring gorgeous bright coloring, this fierce Pokémon figure rests atop a base resembling the Scarlet Book featured in the Pokémon Scarlet video game.
Kotobukiya Koraidon Figure Product Details:
Includes Koraidon figure with Scarlet Book base
Featuring a Legendary Pokémon originally seen in Pokémon Scarlet
Made by Kotobukiya for Pokémon Center
Item Dimensions: 16 x 23.1 x 21.1 cm
Country Of Origin: Made in China
Materials: ABS / PVC
Item Weight: 575.5 g
SKU: 703E10074
Kotobukiya Miraidon Figure Product Details:
Includes Miraidon figure with Violet Book base
Featuring a Legendary Pokémon originally seen in Pokémon Violet
Made by Kotobukiya for Pokémon Center
Item Dimensions: 16 x 22.1 x 21.1 cm
Country Of Origin: Made in China
Materials: ABS / PVC
Item Weight: 530.1 g
SKU: 703E10073
Sources:
https://www.pokemoncenter-online.com/?main_page=product_list&keyword=0203%E5%8F%97%E6%B3%A8%E5%95%86%E5%93%81
and
https://www.pokemoncenter.com/en-ca/search/kotobukiya-figure