The Pokémon TCG: Trainer's Toolkit will be available on June 9th, 2023, at the Pokémon Center and where Pokémon TCG products are sold.
Pokémon TCG: Trainer's Toolkit
Turn your card collection into playable, fun, and competitive Pokémon Trading Card Game decks! Inside this box, you'll find a plethora of Trainer cards and Energy cards as well as a pair of powerful cards featuring the Mythical Pokémon Arceus. Arceus V can do some respectable damage with its Power Edge attack, and when you evolve it into Arceus VSTAR, you'll have access to its Trinity Nova attack, which hits your opponent's Active Pokémon for 200 damage and lets you attach 3 Basic Energy cards from your deck to your Pokémon V in any way you like. If there's a card you desperately need, Arceus VSTAR's Starbirth VSTAR Power lets you search your deck for up to 2 cards to place into your hand.
This Trainer's Toolkit also includes a Deck Builder's Guide that will help you put everything together to create a deck that showcases your best Pokémon! You'll find everything you need to help you make the choices every deck builder faces: More big Pokémon? More strategic Trainer cards? How much Energy is too much? Steer a course for completely new decks, original combos, and all the fun of head-to-head competition with the Pokémon TCG: Trainer's Toolkit!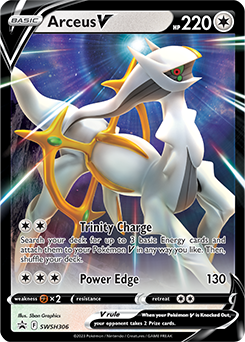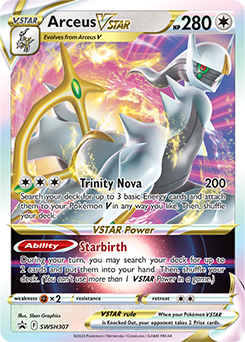 The Pokémon TCG: Trainer's Toolkit includes:
More than 50 useful cards to power up your decks, including dozens of Trainer cards, Arceus V, and Arceus VSTAR
More than 100 Basic Energy cards
4 Pokémon TCG booster packs
65 card sleeves
A Deck Builder's Guide
6 damage-counter dice
1 competition-legal coin-flip die
2 condition markers
1 acrylic VSTAR marker
A code card for Pokémon Trading Card Game Live
Sources:
https://www.pokemon.com/us/pokemon-tcg/product-gallery/trainers-toolkit-2023/