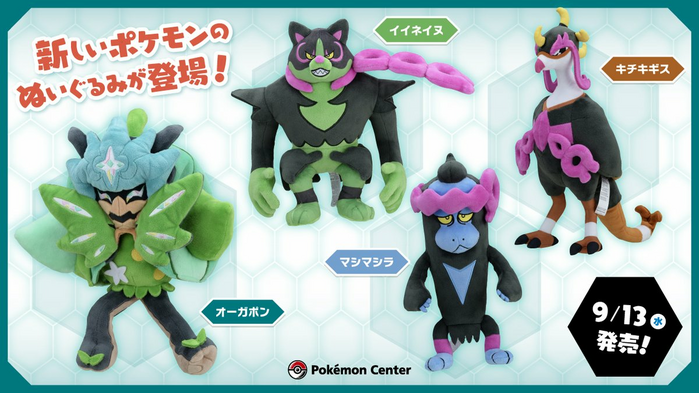 On Wednesday, September 13th, 2023, new plushies from Pokémon Scarlet and Violet: The Hidden Treasure of Area Zero DLC will be available at the Pokémon Center! Available this time is: Ogerpon, who plays an active role in Part 1 The Teal Mask, Iineinu, Mashimashira, and Kichikigisu. Enjoy the feeling of adventure with these four unique plushies!
At the Amazon.co.jp Pokémon Store, pre-orders will be starting on September 13th, 2023, and sales starting on September 23rd, 2023, but due to the limited number of products available, they may be sold during the pre-order period.
Please note that the release of the products may be postponed or cancelled due to the situation in the production area. Please be aware of this beforehand.
Item List (English):
Plushie Ogerpon - 4,400 yen
Plushie Iineinu - 4,400 yen
Plushie Mashimashira - 3,520 yen
Plushie Kichikigisu - 3,520 yen
Item List (Japanese):
ぬいぐるみ オーガポン 4,400円
ぬいぐるみ イイネイヌ 4,400円
ぬいぐるみ マシマシラ 3,520円
ぬいぐるみ キチキギス 3,520円
Source:
https://www.pokemon.co.jp/goods/2023/08/230901_to01.html