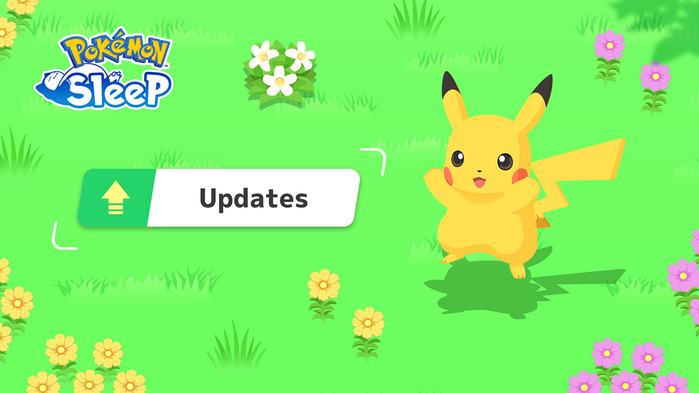 Pokémon Sleep has announce that Version 1.0.9 will feature Game Content changes as well as Bug Fixes. A Maintenance Period will start on September 25th, 2023 at 21:00 and end on September 26th, 2023 at 1:30. The update was
released
on September 26th, 2023.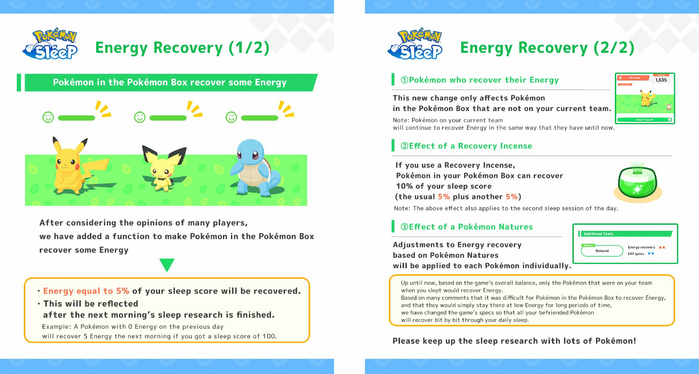 Points to Be Updated
Game Contents
• Changes to make Pokémon in the Pokémon Box recover a small amount of Energy from sleep
• Changes to when fonts for other languages will be downloaded: when they become needed for display (this will apply to users who install or reinstall the app in the future)
• Changes to give a gift of diamonds to users who link their accounts or who have already linked accounts
• Changes to allow users to navigate to their bag from the Gift Box screen when the gift cannot be accepted because the bag's items pocket is full
Bug Fixes
• Fixes to a bug that caused adjustments based on Pokémon Natures not to be reflected when using candies to gain EXP
• Fixes to a bug that caused multiple messages to be unintentionally sent in a single day to the research community (when sleep is tracked twice in one day, the results of only the first sleep research session will be sent to friends)
• Fixes to a bug that caused session photos not to be displayed when the graphic quality was set low
• Fixes to a bug that caused Error 028001 to occur when the Auto Cook button was pressed repeatedly
Source:
https://www.pokemonsleep.net/en/news/2619/
Changes to Energy Recovery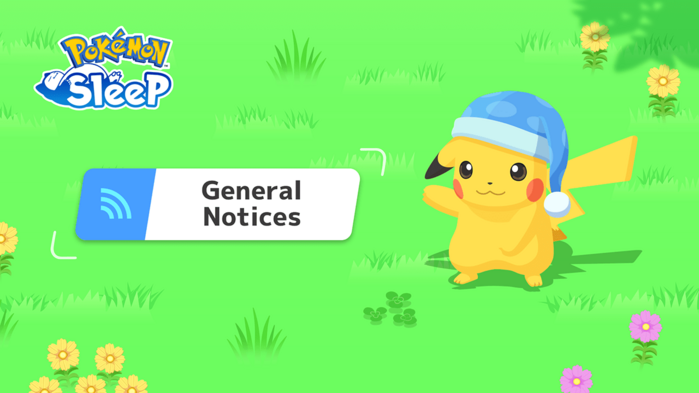 After considering the opinions of many players, we have added a function to make Pokémon in the Pokémon Box recover some Energy.
• Energy equal to
5% of your sleep score
will be recovered.
• This will be reflected after the next morning's sleep research is finished.
Example: A Pokémon with 0 Energy on the previous day will recover 5 Energy the next morning if you got a sleep score of 100.
• Pokémon on your current team will continue to recover Energy in the same way that they have until now. This new change only affects Pokémon in the Pokémon Box that are not on your current team.
• If you use a Recovery Incense, Pokémon in your Pokémon Box can recover 10% of your sleep score (the usual 5% plus another 5%).
• The above effect also applies to the second sleep session of the day.
• Adjustments to Energy recovery based on Pokémon Natures will be applied to each Pokémon individually.
Up until now, based on the game's overall balance, only the Pokémon that were on your team when you slept would recover Energy. Based on many comments that it was difficult for Pokémon in the Pokémon Box to recover Energy, and that they would simply stay there at low Energy for long periods of time, we have changed the game's specs so that all your befriended Pokémon will recover bit by bit through your daily sleep.
Source:
https://www.pokemonsleep.net/en/news/2660/