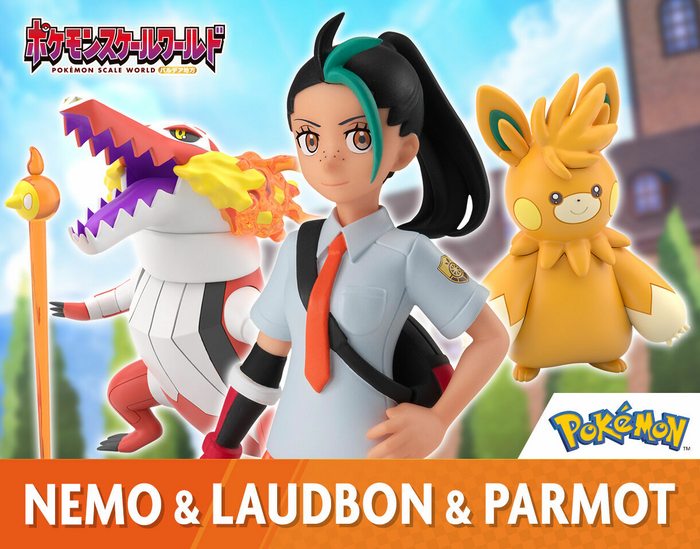 Premium Bandai has revealed the
Nemo & Laudbon & Parmot
set for 6,380 yen (tax included). It will ship in January 2024.
High resolution pictures of this product have been added to the Pokémon Scale World Imageboard thread
.
Product Description:
The Pokémon Scale World series now includes a set of Nemo from the Paldea Region! The Pokémon Scale World is a series of 1/20th scale figures based on the concept of recreating "a world where humans and Pokémon coexist". The Pokémon figures are available in a wide range of sizes, from small enough to hold in your fingertips to large enough to fill both hands.
From the Paldea region, the setting of Pokémon Scarlet and Violet, comes Nemo, a friend of the main character! The set includes Nemo's partner Pokémon Laudbon and Parmot.
Product Details:
Product Name:
Pokémon Scale World Paldea Region Nemo & Laudbon & Parmot (ポケモンスケールワールド パルデア地方 ネモ&ラウドボーン&パーモット)
Price:
6,380 yen (tax included)
Delivery Date:
Scheduled to be shipped in January 2024
Materials:
Body: PVC, ABS, MABS - Pedestal: PVC
Size:
Nemo - H approx. 86mm x W approx. 33mm
Laudbon - H approx. 85mm x W approx. 70mm
Parmot - H approx. 55mm x W approx. 43mm
Sources:
https://p-bandai.jp/item/item-1000197178/
and
https://twitter.com/pokemonkids_of/status/1706866506758496568