The official cover art for the upcoming Pocket Monsters Black and White have been revealed, along with their respective version legendary.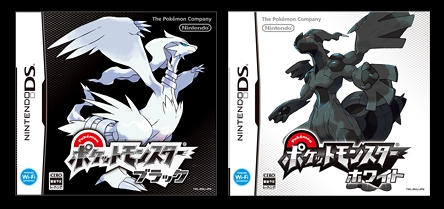 Pocket Monsters Black features the new legendary Pokémon Reshiram (レシラム), while Pocket Monsters White features Zekrom (ゼクロム).
The official English Pokémon site also updated with this news, revealing that the version names Black and White will be used worldwide. The games will be released in Japan September 2010, and in America spring 2011.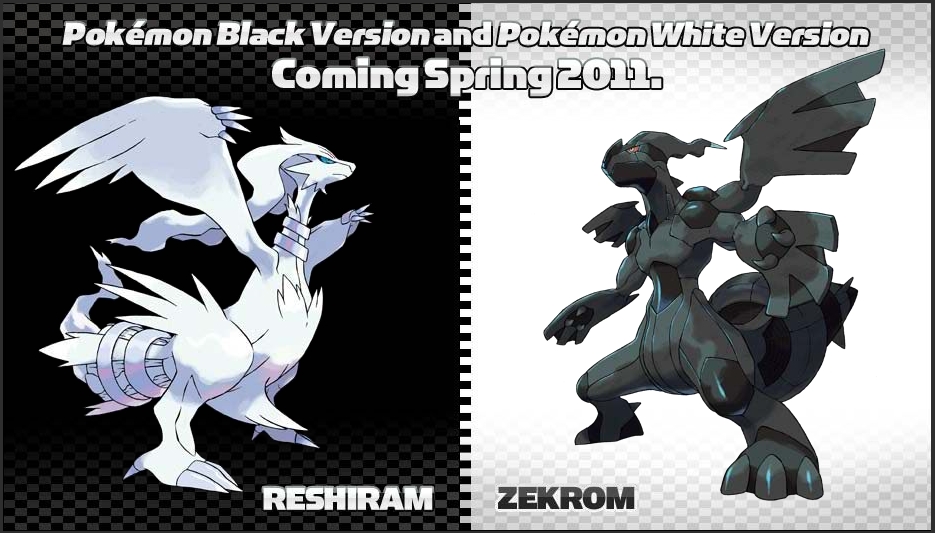 Click here for higher resolution
Nintendo has also posted a press release on their website and it is posted below.
POKÉMON BLACK VERSION AND POKÉMON WHITE VERSION COMING TO NORTH AMERICA IN SPRING 2011
New Legendary Pokémon Reshiram and Zekrom Grace Covers of New Releases
REDMOND, Wash., May 28, 2010 - Two new Pokémon™ games, Pokémon Black Version and Pokémon White Version, for the Nintendo DS™ family of systems will be released in North America in spring 2011. Introducing a new storyline and the next generation of Pokémon, the new releases will feature the Legendary Pokémon Reshiram™ (Pokémon Black Version) and Zekrom™ (Pokémon White Version) on the game covers worldwide.
"Pokémon is a true worldwide franchise with legions of fans in every corner of the globe," said Cammie Dunaway, Nintendo of America's executive vice president of Sales & Marketing. "We know these fans will be thrilled to discover this new generation of Pokémon next year."
The launch of Pokémon Black Version and Pokémon White Version follows the incredible consumer response to Pokémon HeartGold Version and Pokémon SoulSilver Version, which have sold more than 8.4 million units combined worldwide to date. The Pokémon video game series has sold more than 200 million units worldwide since it was first introduced 14 years ago.
Source:
http://press.nintendo.com/articles.jsp?id=23820