Welcome to PocketMonsters.net
PocketMonsters.net
is a fansite dedicated to all things Pokémon (ポケモン) and Pocket Monsters (ポケットモンスター). We are the premier site for news and information about all aspects of the franchise from around the world. We cover the
Anime
,
indexing the music
, the
Trading Card Game
, the
Games
, the
variety shows
, have a
large imageboard
,
forum
and much more.
Follow us on Twitter
and
Subscribe to our RSS Feed
for the latest updates!
Upcoming Episodes
New titles are revealed in various publications such as: TV guides, childrens' magazines, anime magazines, promotional posters and videos, official websites and official television programs. Titles and their translations are added to our
episode guide
and the chart below when the titles are revealed.
Jan 22
Toys R Us has announced on their Facebook page that Shaymin will be available to download starting in February at participating stores.
"Bring your Nintendo DS and your Pokemon Diamond or Pokemon Pearl Game Card to Toys "R" Us to receive Shaymin! (in-store only). PLUS… Get $5 Off ANY Pokémon DS Game title! & Get a Free Pokémon Poster!
Start Time:
Sunday, February 8, 2009 at 9:00am
End Time:
Saturday, February 14, 2009 at 9:00pm
Limit one coupon per participant. Limited quantities available. In-store only. "
Source:
http://www.facebook.com/event.php?eid=46936273745

Article edited on 2009-01-22 03:18:21 by Sunain
Jan 22
The latest episode of Pocket Monsters
Diamond & Pearl 111 - The Ruins of Steel Island! (鋼鉄島の遺跡! )
, aired on Thursday in Japan.
Having been contacted by his rival Jun, Satoshi and his friends traveled to Iron Island to met up with him. When arriving at the Pokemon Center, Satoshi finds out that Jun isn't there with his Emperte. While searching for Jun, they meet Gen and his Lucario and together they find out that Galaxy Gang is behind the mysterious waves affecting the Steel type Pokemon on the island. Can Satoshi and friends defeat Mars and the Galaxy Gang to restore peace to Iron Island once again?
Characters
and
Pictures
from this episode have been added to the
episode guide
as well some of the
music tracks.
You can also
comment and discuss
this episode. Also be sure to rate this and other episodes in the
episode guide
.

Article edited on 2009-01-22 02:55:48 by Sunain
Jan 19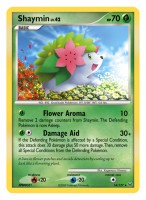 The official TCG website has posted information about two new Shaymin cards. Below is information about the two cards. You can click on either card to get a higher resolution.
The Gratitude Pokémon Shaymin (Platinum, 14/127) premiers in the Pokémon TCG with 2 fantastic attacks. Don't let its cute demeanor fool you—this Grass-type Pokémon plays for keeps! Shaymin's Flower Aroma attack delivers only 10 damage, but it causes the Defending Pokémon to be Asleep—no coin flip required. It also removes 2 damage counters from Shaymin, which is important since it has a relatively low 70 Hit Points. Its Damage Aid attack has the ability to hit the Defending Pokémon for 80 damage, and it requires only 2 Energy to execute. The attack lands for an immediate 30, and if the Defending Pokémon is affected by a Special Condition (which it could be, thanks to Flower Aroma), the attack does 30 damage plus 50 more damage. Special Conditions are then removed from the Defending Pokémon, unless of course it is already Knocked Out!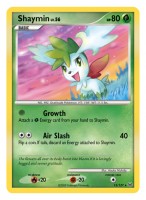 The Sky Forme of Shaymin (Platinum, 15/127) enters the battle with 80 Hit Points and two attacks. Shaymin's Growth attack allows you to attach a Grass Energy card from your hand to Shaymin. It doesn't inflict any damage, but it also doesn't require any Energy to execute. Attach 2 Energy cards of any type to Shaymin, and it can perform Air Slash to deliver a quick 40 damage. You'll have to flip a coin after the attack is complete, and if you get tails, discard an Energy attached to Shaymin. But this isn't so bad, since you can just replace the Energy on the next turn. This newly discovered Pokémon is a welcome addition to the Pokémon Trading Card Game!
Source:
http://www.go-pokemon.com

Article edited on 2009-01-19 11:47:05 by Sunain
Jan 18
The latest episode of Pokémon Sunday,
Diamond & Pearl Returns 'Get Pachirisu...... I'm fine!?' / 'Papa & Mama Pokemon Test!' (ダイヤモンド&パールリターンズ「パチリスゲットで…大丈夫!?」 「パパ&ママポケモンテスト!」)
, aired on Sunday in Japan.
This weeks Pokémon Revival episode is パチリスゲットで…大丈夫!? (Get Pachirisu...... I'm fine!?) which is the nineteenth episode of Diamond & Pearl. Hikari attempts to catch a wild and energetic Pachirisu but she faces many challenges while attempting to catch it. Will Hikari capture Pachirisu?
In today's Pokemon Sunday episode, the Pokemon Company visits a family and gets Papa and Mama to answer a few Pokemon related questions. Initially their knowledge of Pokemon was lacking, so the crew left them with a bunch of DVD's and books to study up for the big test. Will Papa and Mama be able to answer some tough questions about the Pokemon movies and win 3 DS lites with Pokemon Platinum for their children?
Pokémon Mystery Dungeon: Explorers of the Sky (空の探検隊 - Sora no Tankentai) was announced during the news portion of the show and a few screenshots were displayed. Below are a couple of pictures.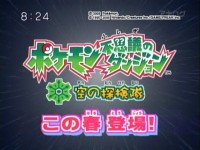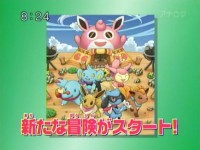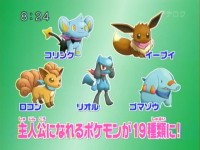 Pictures
from this episode have been added to the
episode guide
. You can can also
comment and discuss
this episode. Also be sure to rate this and other episodes in the
episode guide
.

Article edited on 2009-01-18 12:30:48 by Sunain
Jan 15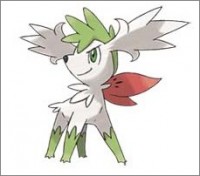 "Shaymin, the 492nd Pokemon, is the newest mysterious Pokemon. Like Manaphy and Darkrai before it, Shaymin does not appear in normal gameplay in Pokemon Diamond Version and Pokemon Pearl Version. It is said that in some regions, it is customary to give a Shaymin-shape flower bouquet as a thank-you gift.
It has recently been discovered that Shaymin is able to change from its original Forme into a Sky Forme in Pokemon Platinum Version. Why does this transformation take place, and how do you get Shaymin in your Pokemon Diamond Version or Pearl Version game?" (
Pokemon.com
)
The official Pokémon: Giratina and the Sky Warrior website announced in the 'Storyline' section that "After departing the Reverse World and meeting Ash and his friends, Shaymin - communicating telepathically - asks for help so it can be runited with the other Shaymin in the Gracidea garden." The Glacidea Flower (グラシデアの花) is the item used in Pokémon Platinum to change Shaymin between its Land and Sky Formes.

Article edited on 2009-01-15 11:14:41 by Sunain
Jan 15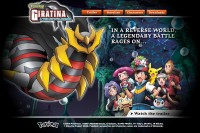 The Official Movie 11 English Dub Website has opened and has posted a trailer, Character biographies, Wallpapers, Screenshots and a storyline for the upcoming movie.
Most character names will be the same as the Japanese version but the big change is Mugen Graceland. His name has been changed to Newton Graceland in the English dub. "Friendly but perhaps a little eccentric, Newton Graceland guides Ash and his friends in the Reverse World."
Pokémon: Giratina and the Sky Warrior is scheduled for release on DVD sometime this spring according to the official
Pokémon website.
Source:
http://origin.pokemon.com/PokemonGiratinaMovie/

Article edited on 2009-01-15 09:36:28 by Sunain