The official Japanese Movie 19 website has updated with information on the annual movie drawing contest. Translations follow:
The "Volcanion and the Ingenious Magearna Drawing Contest": Here is your chance to get your drawing shown in the movie!
We are holding a mass commission for your Pokémon drawings! Color in the application forms with Volcanion and Magearna drawn on them, draw whatever Pokémon and pictures your want around them, then send it in! The grand prize is to have your drawing appear in the movie!
The Grand Prize (1 winner per magazine)
A limited edition "Pocket Monsters Pikachu" 2DS pack
*This is a product exclusive to selected stores (it may also no longer be in sale)
*Please note that while the pack contains a special "Mythical Pokémon Mew Trade Voucher", this distribution will have ended at the time the prizes get awarded, so this voucher can't be used.
Your name and drawing will appear in the movie
And here is your big chance: One of the ten total grand prize winners will get to visit "Pokénchi" from the TV show "Pokémon no Uchi Atsumaru?"!
*One of the 10 grand prize winners will be selected by lottery.
*The recording will take place in Tokyo, so the winner will be contacted directly with details on date and place.
*The winner may be asked for participation or assistance with the planning of the show or related articles.
*Transportation and accommodation must be paid for by the winner themselves. The winner must also be accompanied by an adult.
Runner-Up Prize (5 winners per magazine)
and
Lucky Prize (100 winners per magazine)
Runner-Up Prize (5 winners per magazine)

Winners from Corocoro, Corocoro Ichiban, Shonen Sunday, Kindergartener Magazine, First Grader Magazine, Second Grader Magazine, Pokémon Fan and TV-kun
: A set of two Monster Collection figures (Volcanion and Magearna) *Note: The picture is for illustration purposes, the actual product may differ from what is shown
Winners from Pucchigumi and Ciao
: Pikachu Talk
Lucky Prize (100 winners per magazine)

Four booster packs from the Pokémon Card Game XY BREAK expansion The Psychic King Rising (each pack contains 5 cards. The cards are randomly inserted)
Pokémon With You Prize (1 winner total between all 10 magazines)
*Your submitted drawing will be used (or a limited time) as the headmark on a train that will actually run in the Tohoku region.
*Your name and drawing will also be included in the movie.
About the Pokémon With You Train: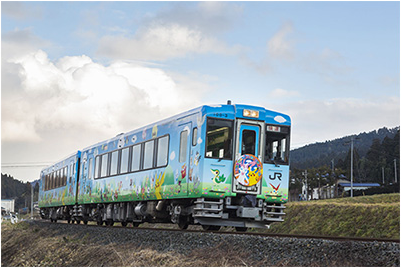 This is a really fun train run by JR East in full collaboration with the disaster relief organization "Pokémon With You". It was born December 22nd 2012 in order to bring joy to the people of Tohoku, a result of many people's desire to help the people in that region. It's currently running weekends and holidays on the Ofunato Line (between Ichinoseki and Kesennuma). Make sure to ride the Pokémon With You Train and create fun memories from Tohoku.
Submit your entry via these 10 children's magazines from Shogakukan:
Submission rules (read through these with an adult):
Cut out the application form from one of these magazines or download one and print it out, fill in all necessary fields, then send it in:
The submissions must have arrived by Friday April 15th
Pokémon Fan
issue 46, on sale February 20th
First Grader
April issue, on sale March 1st
Second Grader
April issue, on sale March 1st
Kindergartener
April issue, on sale March 1st
TV-kun
April issue, on sale March 1st
Ciao
April issue, on sale March 3rd
Corocoro Comic
April issue, on sale March 15th
Pucchigumi
April issue, on sale March 15th
Shonen Sunday
issue 16/2016, on sale March 16th
Corocoro Ichiban
May issue, on sale March 19th
Source:
http://www.pokemon-movie.jp/illust_contest/