Pokémon Die TV-Serie XY - Staffel 17 Blu-Ray Comparison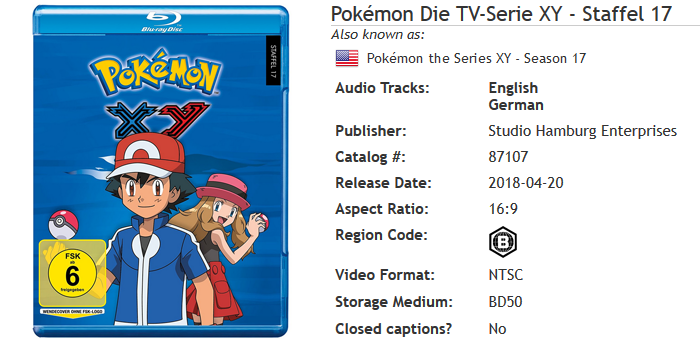 On April 20th, 2018, Studio Hamburg Enterprises released
Pokémon the Series XY (Pokémon Die TV-Serie XY - Staffel 17)
on Blu-Ray in Germany. This marked the first time anywhere in the world that this season had been released on a retail high definition capable physical media and also the first time a Pokémon season that was originally mastered in high defintion was available on Blu-ray. This review specifically focuses on
XY episode 1
and comparing it to various releases from around the world.
Season Synopsis:
Ash Ketchum's journey continues in Pokémon the Series: XY as he arrives in the Kalos region, a land bursting with beauty, full of new Pokémon to be discovered! Setting his sights on the Kalos League, Ash is ready to battle and catch as many new Pokémon as possible. But first he will have to face the formidable Gym Leaders of this region and discover some exciting developments in Pokémon Evolution. While he has new friends Serena, Clemont, and Bonnie at his side, there are also plenty of familiar faces and Pokémon along the way as Ash pursues his dream of becoming a Pokémon Master!
Ash Ketchums Reise geht weiter! In Pokémon - Die TV-Serie: XY kommt er in der Kalos-Region an, einem wunderschönen Land mit vielen neuen Pokémon, die nur darauf warten, von ihm entdeckt zu werden! Er kann es kaum erwarten, gegen diese Pokémon zu kämpfen und sie einzufangen. Zunächst muss er jedoch gegen die eindrucksvollen Arenaleiter dieser Region antreten und einige aufregende Neuheiten in Bezug auf die Pokémon-Entwicklung ergründen. Seine neuen Freunde Serena, Citro und Heureka stehen ihm mit Rat und Tat zur Seite. Ash will sich auf seiner Reise den langersehnten Traum erfüllen, Pokémon-Meister zu werden.
XY Animation Mastering:
Before reviewing the Blu-ray itself, it is best to understand the original animation mastering of the
Pocket Monsters XY series
which was done by OLM Team Kato in Japan. In
Pokémon Get TV episode 2
, the Mysterious Organization 'FPI' Makes their Appearance and the FPI special agent met reporter Eiji Kotoge (小峠英二) from the comedy duo Viking (バイきんぐ)
outside of the OLM offices in Setagaya, Tokyo, Japan
. While in OLM, the FPI agent noticed a Pokémon he had not seen it before and wanted the artist make it move. The artist then took him to another artist who had a hand drawn paper flipbook and she showed Keromatsu move by flipping the pages. The narrator then explained the process of taking the handrawn images, scanning them and then coloring them on the computer. The finalized clip of Keromatsu was then showcased and it was revealed that Keromatsu would make its anime debut in
XY episode 1
.
This behind the scenes clip gave viewers a first hand look at the animation process for the XY series which was a combination of traditionally hand drawn work which was digitized and then the colouring and effects were finished digitally. This process was confirmed in an
article by CGWORLD in 2016
where they discussed that the animation process for the XY series completely changed to a fully digital workflow for
Pocket Monsters XYZ
.
The following chart shows the traditional workflow animation process which was used on the
Pocket Monsters XY series
verses the fully digitized process used in
Pocket Monsters XYZ
.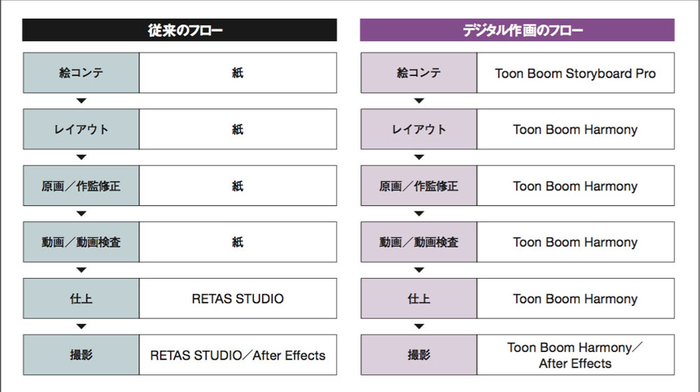 Storyboard
(絵コンテ)
Paper (紙)
Toon Boom Storyboard Pro
Layout
(レイアウト)
Paper (紙)
Toon Boom Harmony
Key Frame Animation / Animation Director Revision
(原画/作監修正)
Paper (紙)
Toon Boom Harmony
Animating/Video Inspection
(動画/動画検査)
Paper (紙)
Toon Boom Harmony
Finishing
(仕上)
RETAS STUDIO
Toon Boom Harmony
Final Video Recording
(撮影)
RETAS STUDIO / After Effects
Toon Boom Harmony / After Effects
Rasterized Digital Artifacts in Mastering Process:
As a result of the animation process used during the
Pocket Monsters XY series
, some scenes have aliased rasterization artifacts due to the original master being digitized at too low a resolution. The close-up on Keromatsu during the colorization scene shows that the rasterization aliasing is a master copy issue and not a result of encoding or deinterlacing. Not all scenes in the XY episodes have this issue but it is common enough on high motion and extreme close-up's to be noticeable. The following clip is from
Pokémon Get TV episode 2
and showcases this issue.
This artifact was barely noticeable on the DVD transfers for this season as the resolution, bitrate and filters used during the encoding of the DVD's smoothened the artwork lines making them less noticeable. With the Blu-ray's higher resolution and bitrate, this mastering artifact becomes more noticeable. OLM appears to have added a line smoothing filter to reduce the prevalence of the artifact as the lines are never as sharp as they could be.
Dub Master:
The Pokémon Company International hired United States based
DuArt Film & Video Inc.
run by Tim Werenko and Tom Wayland to do the English dub mastering for
Pokémon the Series: XY
, which was then used by the rest of the dubbed languages around the world outside of Asia. This German Blu-ray uses the dub master and not the Japanese original Pocket Monsters XY master. The dub master
contains edits and modifications
that the original Japanese version did not have to conform to their worldwide dubbing standards.
Pokémon Die TV-Serie XY - Staffel 17 Blu-Ray Specs:
Video:
1920x1080 Progressive Scan (16:9)
Frame Rate:
NTSC 23.976
Bitrate (XY1):
Average: 24855 kbps
Max: 37739 kbps
3.95GB
Codec:
H264 MPEG-4 AVC Part 10
Audio:
Dual Audio Tracks: German and English
Stereo, 32bit / 48000Hz
A52 Codec / AC3
Region Code:
Release Date:
2018-04-20
Catalog #:
87107
Publisher:
Studio Hamburg Enterprises
MSRP:
EUR 49,99
Packaging:
The set comes on 5 (
five
), 50GB Blu-ray disks in a standard blue Blu-ray plastic case. The cover art is the stock artwork that has been used around the world for other season sets with the exception of the large FSK 6 rating logo in the bottom left corner. The back cover art has a paragraph description of the season, pictures of the discs and some basic copyright and disc stats.
Menu:
Before viewers can get to the menu to play the disc, there is a 13 second unskipable video for a copyright warning and a FSK ratings note. There is then a 11 second Studio Hamburg Enterprises logo clip and then a 8 second anime clip with random scenes from the XY season that plays before the menu loads up.
Copyright Notice:
The program contained on this picture carrier and its equipment are protected by copyright. The program is only released for demonstration for non-commercial purposes in the private sector. Any other use, such. Public performance or broadcasting, unauthorized copying, renting or other commercial use or their acquiescence is prohibited. Violations will be prosecuted under civil and / or criminal law.
FSK Note:
The FSK markings are made on the basis of §§ 12, 14 Youth Protection Act. They are legally binding marks, which are carried out by the FSK on behalf of the highest national youth authorities. The FSK markings are not pedagogical recommendations, but are to ensure that the physical, mental or psychological well-being of children and adolescents of a certain age group is not impaired.

Further information can be found at www.fsk.de.
The menu itself is not animated other than the sun rays in the top right corner and the menu is pretty basic overall, but functional. It has a Main Menu, an Episode Selection Menu and an Audio Track Selection menu. The background of the menu is the same stock cover art featuring Ash and Serena. The Germany Pokémon Theme, Schnapp' sie dir (XY) plays in a loop while the menu is active. A Poké Ball acts as the navigational selection.
Video Quality:
Despite being a Blu-ray, the video on this set suffers many different issues apart from the rasterized digital artifacts from the Japanese original mastering process noted above. Studio Hamburg Enterprises clearly does not know how to properly master or encode video for Blu-ray as there are issues with frame rate and deinterlacing which creates flickering, ghosting artifacts, deinterlacing artifacts and field shifting issues.
All of the episodes in this set are encoded at 1920x1080 progressive scan, 23.976 frames per second NTSC using the H264 MPEG-4 AVC Part 10 codec. Unforuntately, the frame rate is where many of the issues begin. Pocket Monsters for many seasons has had scenes mastered in 24fps and 30fps in the same episode. This is often due to the fact that the series mixes animation techniques, traditionally drawn scenes and scenes using CGI.
Encoding the episodes at 24fps means that the video cannot support variable framerate video (VFR). The video would need to have been encoded at 29.97 in order to allow for the proper frame rate. As a result, scenes that were mastered at 30fps get 6fps dropped and that causes very jerky motion. Panning scenes are especially jumpy during playback.
The Team Rocket motto scene is the best place to showcase the overall video quality as there is a lot of motion and the starfield requires a ton of bitrate to make it look clear and free from macroblocking. The Blu-ray's bitrate helps this scene a bit but unfortunately it is not free of macroblocking and the original master rasterization issue is also very clear on Wobbuffet. If the disc's weren't stuffed with 10 episodes per 50GB disc, encoding the videos at a higher bitrate would have been possible to help scenes like this. The dub master seems to have a bit of a blur filter as some of the fine lighter stars get washed out compared to the BS Japan airing.
A deinterlacing filter was added to the video to make it progressive scan for the Blu-ray but it wasn't done properly. There is constant field bobbing throughout the entire set causing every second frame to go up and down a pixel or two. This is especially noticeable during the intro text for staff. The text moves slightly and makes it harder to read producing a motion sickness sensation.
Deinterlacing artifacts are also visible especially where there are tightly packed lines such as the scene below with the man holding a newspaper behind
Pansy
.
Ghosting is also present due to improper deinterlacing and the frame rate issue. It is also visible particularily during the intro segments. The
Citron
part of the intro is particularily bad on the Blu-ray causing him to be almost completely duplicated due to ghosting. The BS Japan capture for the exact same frame does not have that ghosting issue but suffers from pretty extreme macroblocking and noise.
The improper deinterlacing also caused a flickering artifact to appear near the very top of the frame. It is quite visible when watching on a screen or monitor that does not
overscan
.
Video Bitrate:
Being the first Pokémon XY Blu-ray released worldwide, there isn't much to directly compare with it with regards to codec and bitrate settings used during the encode this set. The closest thing that is a
fair
comparison is Amazon Japan's Pocket Monster XY encodes which use H264 MPEG-4 AVC Part 10 AVC1 codec at 1080p 23.976fps. BS Japan's airing of XY1 still looks the best overall despite using MPEG2.
Pokémon Die TV-Serie XY - Staffel 17 Blu-Ray

Codec: H264 MPEG-4 AVC Part 10 1920x1080p
Frame Rate: 23.976fps NTSC
Average: 24855 kbps
Max: 37739 kbps
File Size: 3.95GB
Amazon Japan WebRip

Codec: H264 MPEG-4 AVC Part 10 AVC1 1920x1080p
Frame Rate: 24fps NTSC
Average: 5631 kbps
Max: 22597 kbps
File Size: 1.003GB
BS Japan Airing 2014-05-11

Codec: MPEG2 1920x1080i
Frame Rate: 29.97fps NTSC
Average: 19274 kbps
Max: 24631 kbps
File Size: 3.64GB
Kids Station Airing 2014-04-12

Codec: MPEG2 1440x1080i
Frame Rate: 29.97fps NTSC
Average: 10916 kbps
Max: 14425 kbps
File Size: 2.105GB
Cartoon Network USA - Verizon - 2013-10-19 Airing

Codec: MPEG2 1920x1080i
Frame Rate: 29.97fps NTSC
Average: 11939 kbps
Max: 22090 kbps
File Size: 2.929GB
Pokémon the Series: XY (Set 1) DVD - Region 1

Codec: MPEG2 720x480i
Frame Rate: 29.97fps NTSC
Average: 5383 kbps
Max: 9450 kbps
File Size: 928.48MB
XY Volume 1 Japanese Rental DVD

Codec: MPEG2 720x480i
Frame Rate: 29.97fps NTSC
Average: 7526 kbps
Max: 9799 kbps
File Size: 1.329GB
Audio:
The set is dual audio featuring a German dub track and an English dub track. Dual audio sets for Pokémon featuring English as one of the tracks are few and far between, so this is a nice addition to the set. As this is currently the only Blu-ray set for this season worldwide, fans around the world maybe interested in the set due to the inclusion of the English dub track. The dub voice acting quality is very subjectional and is not part of this review. Viewers are able to initially set the audio track they wish to listen to from the Audio Selection Menu or if their playback device allows, viewers can change the audio track on the fly.
Both tracks are encoded using the Dolby A/52 AC3 codec at 48000Hz stereo 192kbps. AC3 on a Blu-ray seems to be a bit underwhelming as the Blu-ray spec supports higher quality codec's and AC3 means the audio is no better than the
DVD set of this release
. The file sizes for each track are only 30MB for a total of 60MB of audio per episode. We don't know how good the original dub master audio quality is, but it seems like it should have been recorded at a better quality than this for the XY season.
The back cover of the set promotes that this Blu-ray set is mastered in Dolby Digital. None of the Pokémon seasons have surround sound. The audio is in sync for both tracks but due to the video frame rate issue, lip movements seem off a bit due to the dropped frames.
Overal Impression:
As this is the first Blu-ray set for this season worldwide, viewers do not have many options to choose from. For viewers in Germany that want the German dub, this is the only option other than the
DVD set of this same release
. For English dub viewers, we recommend that you wait for awhile longer to see if other countries release English dub Blu-ray sets before thinking of buying this set. The video and audio for this set could be much better!
---
This page has been viewed 11487 times.
Last updated 24 Sep 2018 16:54 by Sunain.
Revision #38