Pokémon Die TV-Serie XY - Staffel 17
Pokémon the Series XY - Season 17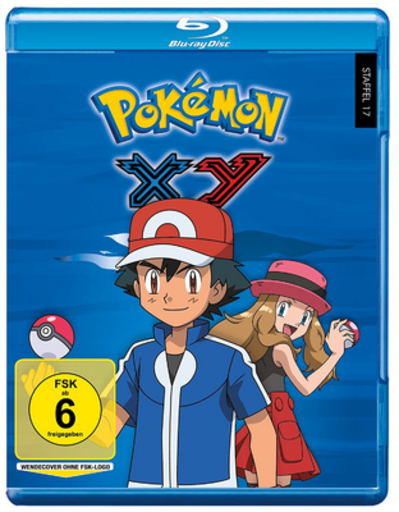 Details
Audio Tracks:
English
German
Publisher:
Studio Hamburg Enterprises
Catalog #:
87107
Release Date:
2018-04-20
Aspect Ratio:
16:9
Region Code:
Storage Medium:
BD50
Closed Captions?:
No
Rental Only?:
No
Price:
Description
An extensive review of this Blu-ray is available here
.
Ash Ketchum's journey continues in Pokémon the Series: XY as he arrives in the Kalos region, a land bursting with beauty, full of new Pokémon to be discovered! Setting his sights on the Kalos League, Ash is ready to battle and catch as many new Pokémon as possible. But first he will have to face the formidable Gym Leaders of this region and discover some exciting developments in Pokémon Evolution. While he has new friends Serena, Clemont, and Bonnie at his side, there are also plenty of familiar faces and Pokémon along the way as Ash pursues his dream of becoming a Pokémon Master!
Ash Ketchums Reise geht weiter! In Pokémon - Die TV-Serie: XY kommt er in der Kalos-Region an, einem wunderschönen Land mit vielen neuen Pokémon, die nur darauf warten, von ihm entdeckt zu werden! Er kann es kaum erwarten, gegen diese Pokémon zu kämpfen und sie einzufangen. Zunächst muss er jedoch gegen die eindrucksvollen Arenaleiter dieser Region antreten und einige aufregende Neuheiten in Bezug auf die Pokémon-Entwicklung ergründen. Seine neuen Freunde Serena, Citro und Heureka stehen ihm mit Rat und Tat zur Seite. Ash will sich auf seiner Reise den langersehnten Traum erfüllen, Pokémon-Meister zu werden.
BD 1
1. Kalos, Region der Träume und Abenteuer!
2. Verfolgungsjagd in Illumina City!
3. Ein Kampf der Lüfte!
4. Vorsicht! Wangenrubbler!
5. Ein stürmischer Nouvaria-Arenakampf!
6. Gib nie auf!
7. Ein Rihorn-Rennen mit Hindernissen!
8. Gestylte Coiffwaff!
9. Citros Geheimnis!
10. Die Mega-Mauzi-Manie!
BD 2
11. Zoff im Bambus-Wald!
12. Vorsicht! Pokémon Schmuggler!
13. Kindergarten-Chaos!
14. Schutz vor dem Sturm!
15. Ein voller Magen kämpft nicht gern!
16. Eine Verwechslung mit Folgen!
17. Ninja-Weisheiten im Schnelldurchlauf!
18. Erweckt den schlafenden Riesen!
19. Gemeinsam gegen geheime Machenschaften!
20. Die Adelstitel des Kampfschlosses!
BD 3
21. Ein Poké-Werbevideo-Dreh mit Folgen!
22. Legende oder Wahrheit?
23. Zurück in der Kälte!
24. Bezwinge die Wand!
25. Kampf auf süßer Ebene!
26. Die Suche nach der Feenblume!
27. Das Geheimnis der Mega-Entwicklung!
28. Hilfe! Doppelgänger!
29. Mega-Enthüllungen!
30. Die Höhle der Prüfungen!
BD 4
31. Der Aura-Sturm!
32. Rufe von jenseits der Aura!
33. Das Band der Mega-Entwicklung!
34. Der Wald-Champion!
35. Kämpfe am Himmel!
36. Die Höhle der Spiegel!
37. Neue Wald-Freundschaften!
38. Das Pokémon Sommer Camp!
39. Tag drei: Videowettbewerb!
40. Ein Pokémon Orientierungs-Rennen im Nebel!
BD 5
41. Kampf um die Ruhmeshalle!
42. Der Ursprung der Mega-Entwicklung!
43. Kräftemessen in der Yantara-Arena!
44. Wenn Geschwister streiten!
45. Ein ängstlicher Tollpatsch wird zum Held des Tages!
46. Vom Traum, Performerin zu werden!
47. Ein Wiedersehen in der Schule!
48. Heureka geht in die Verteidigung!
Images