ポケットモンスター ダイヤモンド・パール ピカチュウのキラキラだいそうさく!
Pocket Monsters Diamond and Pearl Pikachu's Great Sparkling Search!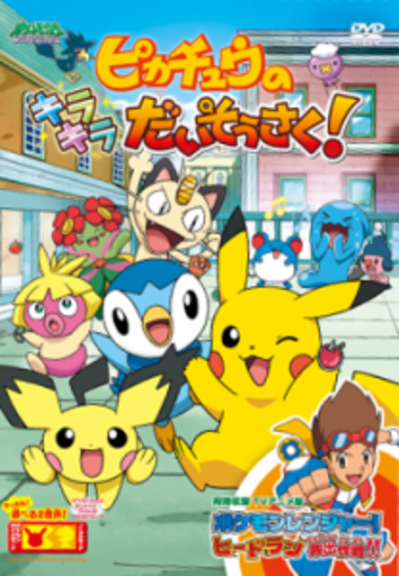 Details
Audio Tracks:
Japanese
Publisher:
Sho Pro
Catalog #:
ZMBS-6055
Release Date:
2010-06-18
Aspect Ratio:
16:9
Region Code:
Video Format:
NTSC
Storage Medium:
DVD5
Closed Captions?:
No
Rental Only?:
No
Price:
Description
Summer! Everyone is full of energy today. Pikachu and friends play with their beach ball! Pikachu and Pochama are chasing and diving in a river when they drift over and see a metropolis. "Where are we?" they said, searching from the rooftops of the buildings. Suddenly, with a bang, jagged-eared Pichu and Muchul collide. The two argue in an angry mood. "Sparkling is gone! It was the present to give to Kireihana..." Besides, today is her birthday!? This is troublesome! We must hurry and search. Moreover, Nyarth-tachi are aiming too! Thus, the Great Sparkling Search begins!
夏だ! 今日も元気いっぱい。ビーチボールで大はしゃぎのピカチュウたち! ところがボールは坂をころがり川の中!追いかけなきゃと飛び込むピカチュウとポッチャマ。でもどんどん流され、気づくとそこは高いビルが並ぶ大都会!「どこにいっちゃったんだろう?」とビルの屋上から探していると、突然ドンッ!とギザみみピチューとムチュールに ぶつかっちゃった。2匹は「あっキラキラがない! キレイハナにあげるプレゼントだったのにど~してくれるのよ!」 とお怒りムード。しかも今日がたんじょう日!? それは大変! いそいで探さなきゃ。さらにニャースたちもキラキラをねらってる! さあ、キラキラだいそうさくのはじまりだ!
Images