Disc Summary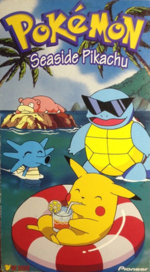 Pokémon - Vol. 06: Seaside Pikachu
Audio Tracks:
English

Publisher:
Pioneer Entertainment & VIZ
Catalog #:
PIKA-0006
Release Date:
1999-07-20
Aspect Ratio:
4:3
Region Code:
Video Format:
NTSC
Storage Medium:
Closed captions?
No
Rental Only?:
No
Average Rating
Description
Capsized! Pikachu, Ash and their friends are trapped in the sinking St.Anne! How will they escape their watery fate!?

Pluss.. our heroes get stranded on a dangerous island inhabited by dinosaur-sized Pokémon, while Pikachu and the other Pokémon desperately search for their trainers.

And... Nastina's plan to eliminate all Tentacool backfires when she hires Team Rocket for the job. Now Ash and company have to save the city from a rampaging Tentacruel bent on revenge!