Disc Summary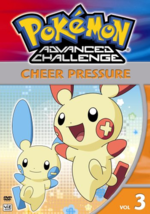 Pokémon Advanced Challenge: Cheer Pressure - Volume 3
Audio Tracks:
English

Publisher:
VIZ Media
Catalog #:
782009234357
Release Date:
2005-11-29
Aspect Ratio:
4:3
Region Code:
Video Format:
NTSC
Storage Medium:
DVD5
Closed captions?
Yes
Rental Only?:
No
Average Rating
Description
Come What May!
Can May's Beautifly make it to the finals or will it fall flat on their wings?

Cheer Pressure
Ash and Pikachu have nothing to fear with the help of Plusle and Minun's Pokémon cheer!

Game Winning Assist
As Team Rocket prepares for trouble by stealing Numel, May and Skitty try to stop them on the double!

Fight for the Meteorite
Ash gets caught between a rock and a high place when Team Magma and Team Aqua battle for a rare meteorite.

Poetry Commotion!
Before Ash can get a Heat Badge, Flannery, the Lavaridge Gym Leader, unloads some poetic justice on Team Rocket!