Disc Summary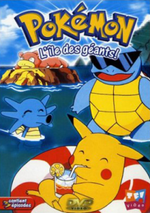 Pokémon (Vol.6): L'île des géants!
Also known as:
| | |
| --- | --- |
| | Pokémon (Vol.6): The Island of Giants! |
Audio Tracks:
French

Publisher:
TF! Video
Catalog #:
Release Date:
2000-07-05
Aspect Ratio:
4:3
Region Code:
Video Format:
PAL
Storage Medium:
DVD5
Closed captions?
No
Rental Only?:
No
Average Rating
Description
Synopsis
Prisonniers à bord de l'épave du St-Anne, nos amis Sacha, Ondine et Pierre cherchent désespérément une issue... lorsqu'il rencontrent la Team Rocket ! Et pour échapper à une fin terrible : nos héros et leurs ennemis décident de conclure une trêve... Mais à peine remis de leurs émotions, un Léviator les projette sur une île habitée par des pokémon de taille gigantesque ! Eloignée de leurs dresseurs, Pikachu et les autres Pokémon devront affronter seuls ces géants... Arrivés à Porta-Vista nos amis rencontrent Nastina, qui construit un hôtel de luxe sur l'océan. Elle propose à nos amis de supprimer les Tentacool, des pokémon méduse, qui menacent son projet. Ils refusent, mais comme toujours la Team Rocket s'en mêle!