寵物小精靈水都的守護神拉帝亞斯和拉帝歐斯 / 閃閃星空下的露營
Pocket Monsters: Pocket Monster Heroes / Camp Pikachu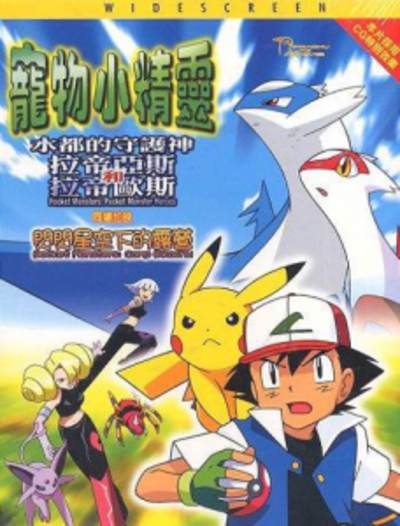 Details
Audio Tracks:
Japanese
Chinese (Cantonese Hong Kong)
Publisher:
寰宇
Catalog #:
Release Date:
2005-01-05
Aspect Ratio:
16:9
Region Code:
Video Format:
NTSC
Storage Medium:
DVD5
Closed Captions?:
Yes
Rental Only?:
No
Price:
Description
水都的守護神拉帝亞斯和拉帝歐斯
Pocket Monsters: Pocket Monster Heroes
  在這個佈滿運河及迷宮的美麗水都,小智、比卡超以及一班好朋友遇到擁有不可思議力量的寵物小精靈拉帝歐斯和拉帝亞斯,這對感情非常要好的兄妹一直默默地守護著水都的秘寶「心之結晶」。但是,一對怪盜姊妹看上這件秘寶並開始進行搶奪行動。就在怪盜姊妹抓了拉帝歐斯,啟動「心之結晶」的封印時,海水開始淹沒水都…小智和比卡超他們怎樣解決這場危機?
  In a magical water city of canals and mazes, Ash, Pikachu and the rest of the gang face off against a slick pair of thieves who plan to steal an awesome and dangerous jewel guarded by Latios and Latias. To save the city from total destruction, our heroes must defeat the evil duo and overcome impossible obstacles. Let's Join all your favourite characters on the greatest Pokemon adventure ever!
閃閃星空下的露營
Pocket Monsters: Camp Pikachu
  皮丘兄弟在坐火車途中,意外地掉到一座森林中,在皮丘兄弟不知道該怎麼辦時,剛好遇到了比卡超,到底比卡超能不能順利帶牠們倆回家?
  The Pichu Brothers are taking a trip on a train back to their hometown when they fall off and get lost in the woods they were riding through. Meeting Wynaut, as well as Volbeat and Duskull along the way, can Pikachu must go rescure his friends?
Images