Disc Summary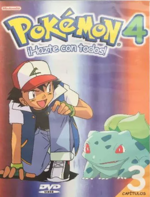 Pokémon Vol. 4 ¡Hazte con todos!
Audio Tracks:
Spanish

Publisher:
Media Facilities Kids
Catalog #:
Release Date:
2006-01-13
Aspect Ratio:
4:3
Region Code:
Video Format:
PAL
Storage Medium:
DVD5
Closed captions?
No
Rental Only?:
No
Average Rating
Description
Capítulo 10: Bulbasaur y la aldea oculta
Aún perdidos, nuestros amigos llegan de modo accidental a una aldea oculta, donde una joven de buen corazón llamada Melanie, cuida de Pokémon que han sido heridos en combate o abandonados por sus amos. De pronto, aparecen los miembros del Rocket Team, pero entre Ash y Melanie los derrotan. Los vencedores deciden organizar un combate entre sus mejores Pokémon. Ash anima a Pokachu para que se enfrenten a Bulbasaur, el Pokémon más poderoso de Melanie. ¿Lo podrá vencer?

Capítulo 11: Charmander, el Pokémon perdido
En su camino hacia Ciudad Roja, se encuentran a un Pokémon perdido llamado Charmander. Ash intenta atraparlo, pero falla. Poco después aparece su propietario, Daisuke. Tras su aparición, cae sobre ellos una tormenta y deben dejar de buscar hasta la mañana siguiente. Pero, por la mañana, reciben el ataque del Rocket Team. Cuando están a punto de atrapar a Pikachu, aparece Charmander y lo salva. ¿Será Charmander el próximo Pokémon que se una al grupo de Ash?

Capítulo 12: Aquí llega el Escuadrón Squirtle
Mientras nuestros amigos continúan con su viaje, un escuadrón de Squirtle se une al Rocket Team para atacar al grupo de Ash. Esta vez tienen éxito y, además, Pikachu cae gravemente herido. Ash logra escaparse y va a buscar los medicamentos que puedan salvar a su primer Pokémon. A su vuelta, Ash comprueba que el Rocket Team ha traicionado a los Squirtles. ¿Conseguirá que le ayuden a rescatar a sus amigos?
Episodes

Fushigidane of the Hidden Village

Bulbasaur and the Hidden Village

かくれざとのフシギダネ

Fushigidane of the Hidden Village


Stray Pokémon Hitokage

はぐれポケモン・ヒトカゲ

Charmander the Stray Pokemon

Stray Pokémon Hitokage


ゼニガメぐんだんとうじょう!

Enter the Zenigame Squad!

Here Comes the Squirtle Squad

Enter the Zenigame Squad!