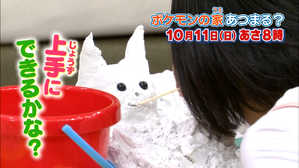 Available On:
2015-10-11 手の中で固まる不思議な砂を使ってポケモンアートに挑戦!/「ポケだちあつまる?」板橋後編/バトル「中川翔子 VS ヒャダイン」!
2015-10-11 Te no naka de katamaru fushigi na suna wo tsukatte Pokémon art ni chōsen! / 'Pokédachi atsumaru?' Itabashi-kōhen / Battle 'Nakagawa Shōko VS Hyadain'!
2015-10-11 Attempting to Create Pokémon Art Using Mysterious Sand That Hardens in your Hands! / 'Pokénds Gather?' in Itabashi, Part 2 / Battle: Shoko Nakagawa VS Hyadain!