»
Episode Guide
» Viewing Episode: トレーニングジム開講!/ ボディビルダーの横川尚隆とツル飛びチャレンジ対決!/A Training Gym Gets Started! / Facing Off in a Vine Swinging Challenge with Bodybuilder Naotaka Yokokawa!
12 Sep 2020 03:14 PM

Admin Staff


Joined: 12 Jul 2007
Forum Posts: 1043


Kasude resembles Zarude?! A training gym gets started! The residents welcome bodybuilder Naotaka Yokokawa as they face each other in a vine swinging challenge!
We also get a multi battle against Taiiku Okazaki featuring mythical Pokémon!

Summary:
"Let's obtain bodies as strong and agile as the Mythical Pokémon Zarude's! It's off to train in Okoya Forest!", the Pokénchi residents thought, but the one that met them wasn't Zarude, but Kasude?! Naotaka Yokokawa, a Pokénd that looks just like a Goriky, gets welcomed to a training session where the residents compete against each other! And Coco, a boy raised by a Pokémon, shows up as well?! In addition, the mythical Pokémon Zarude and Celebi show up in a multi battle against Taiiku Okazaki! And what is the reason Abareru-kun started to cry loudly?!

Cast:
Shoko Nakagawa
Hyadain
Abareru-kun
Rinka Otani
Guests: Toshiaki Kasuga (from Audrey), Naotaka Yokokawa (bodybuilder) and Taiiku Okazaki
Featured in video footage: Tortoise Matsumoto (from Ulfuls)
Picture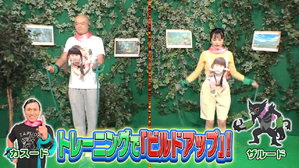 You must be signed in to rate episodes.
Average Rating:
VHS/DVD/Blu-ray Availability
Titles
| | | |
| --- | --- | --- |
| | トレーニングジム開講!/ ボディビルダーの横川尚隆とツル飛びチャレンジ対決! | 2020-09-13 |
| | Training Gym kaikō! / Bodybuilder no Yokokawa Naotaka to tsurutobi challenge taiketsu! | 2020-09-13 |
| | A Training Gym Gets Started! / Facing Off in a Vine Swinging Challenge with Bodybuilder Naotaka Yokokawa! | 2020-09-13 |
©2002-2020 PocketMonsters.net
Version 5.1779
Rendered in: 0.01373s Queries: 9
Pokémon, all assorted characters, images and audio are ©GAME FREAK, Nintendo, Creatures, TV Tokyo, ShoPro and The Pokémon Company.
All images, text and audio are used in an editorial context. No site content, information, translations, news, images or otherwise may be reposted to any website without expression permission from the staff.
Current logos by: Juno