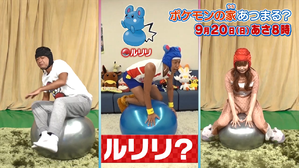 Available On:
2020-09-20 全国のポケだちと、インターネット通信でポケモン交換!/ バランスボールが超得意なポケだちや、ダグトリオみたいなポケだちが登場
2020-09-20 Zenkoku no Pokédachi to, Internet tsūshin de Pokémon kōkan! / Balance ball ga chō tokui na Pokédachi ya, Dugtrio mitai na Pokédachi ga tōjō
2020-09-20 Using the Internet to Trade Pokémon with Pokénds that Live All Over Japan! / A Pokénd Who's a Balance Ball Expert and Pokénds That Resemble a Dugtrio Appear!