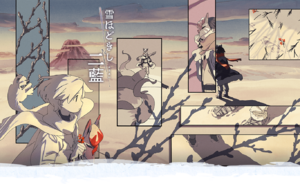 Available On:
Titles
Onto the Icy Blue
青き踏む
Aokifumu
Treading on Blue
In das eisige Blau
Sur les glaces azurées
Sobre el azul helado
Nel gelido blu
踏青
Rumo ao azul gélido
푸른 발자국
踏青
สีฟ้าใสแห่งการพบพาน
Airdates
Japanese:
English:
Laura Post
Voice Director
International:
Pokémon: Hisuian Snow tells the story of a boy named Alec and his encounter with a Hisuian Zorua. When he was younger, Alec's father taught him that people and Pokémon cannot live together. But Alec's interactions with the Zorua might offer a different lesson.
Characters


Alec's Father
アキオの父
Akio no Chichi
Akio's Father
Hisuian Zorua (Shiny)
ゾロア (ヒスイのすがた) (色違い)
Zoroa (Hisui no sugata) (Iro chigai)
Zoroa (Hisui Form) (Alternate-colored)
Wild Pokémon
No notes available for this episode.
Japanese Music:
Music Statistics:
Number of Assigned Tracks to the Japanese Original: 0
Number of Assigned Tracks to the English Dub: 0