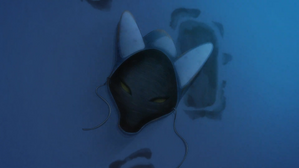 Available On:
Titles
Fiery Reflections in Snow
名残り雪、赤く
Nagori yuki, akaku
Red Reflections in the Remaining Snow
Feurige Reflexionen im Schnee
Reflets embrasés sur la neige
Riflessi impetuosi nella neve
Temibles reflejos sobre la nieve
殘雪、漸紅
Reflexos ardentes na neve
봄눈은 붉게 물들고
สีม่วงครามยามหิมะละลาย
Airdates
This episode picks up right after the events of the debut episode. We see young Alec befriending a Hisuian Zorua after falling down a cliffside, and the two work together to climb back up. However, when Alec returns to his father, the boy is surprised at his father's reaction upon seeing the little Pokémon.
No notes available for this episode.
Japanese Music:
Music Statistics:
Number of Assigned Tracks to the Japanese Original: 0
Number of Assigned Tracks to the English Dub: 0