SK Jewellery Pokémon
File:
15786670040053.jpg
(1500px x 1500px - 1.24 MiB)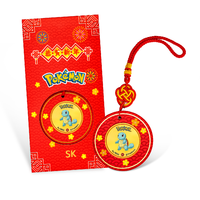 Posted by: Sunain on 01/10/20 09:36:44 (No. 31996)
SK Jewellery Pokémon
Pokémon 999 Pure Gold Coin Ang Pow (Squirtle)
S$68.00
Gotta catch 'em all! Get supercharged in the Year of Rat with SK Jewellery Pokémon Collection. Available in your favourite Pokémon characters, discover the beautifully crafted gold Pokémon collection.
Each 999 Pure Gold Pokémon Coin Ang Pow is filled with auspicious blessings, bearing the endearing & supercharged Pokémon characters.
https://www.skjewellery.com/component/hikashop/product/pokemon-999-pure-gold-coin-ang-pow-squirtle.html