Like earlier years,
Nagoya Railroad
(Meitetsu) will be holding a tie-in campaign related to the upcoming Pokémon movie, starting Saturday March 23rd.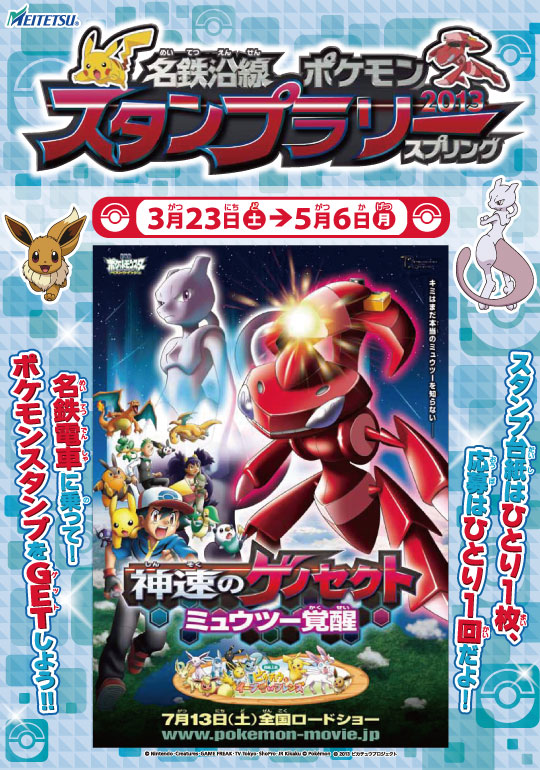 The popular 'Pokémon Stamp Rally Along the Meitetsu 2013 Spring', where children can gather stamps from various stations along the line to qualify for prizes, will run from Saturday March 23rd all the way up through Golden Week, ending on Monday May 6th.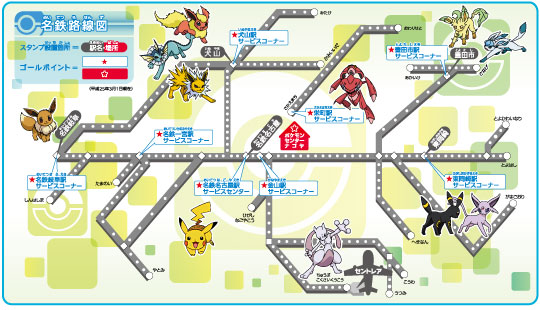 Two separate contests will be held.
Those who have gathered at least two of the 7 different stamps are eligible for the 'Extremespeed Award', where 100 winners will be given sets of Pokémon Center merchandise; 20 winners will receive a 'Pikachu Set', while 80 winners will receive a 'Pokémon Center Nagoya Set'.
Those having gathered all 7 stamps will be eligible for the 'Spring Master Award', where 10 winners will receive a Kyurem VS the Sacred Swordsman Keldeo DVD, and 2 winners will receive the grand prize: Giving the departure signal for the train during a special event to be held Sunday July 14th.
Additionally, "The Extremespeed Genesect" (神速のゲノセクト号), a train sporting a design featuring Pokémon from the upcoming movie, will be running throughout the campaign period. A departure ceremony will be held at the Central Japan International Airport Station Sunday March 24th.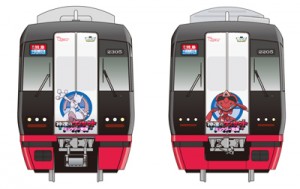 In addition, various other tie-in events, like a coloring contest, will be held throughout the campaign period.
Sources:
http://www.pokemon-movie.jp/news/?p=695
and
http://www.meitetsu.co.jp/osusume/shohin/1227227_1244.html
McDonalds Happy Set Campaign
McDonalds will also be hosting a movie tie-in campaign next week.
Those buying a Happy Set Saturday March 30th or Sunday March 31st will be given a promotional Extremespeed Genesect: The Awakening of Mewtwo double poster as long as supplies last.
The front side of the poster will feature an Extremespeed Genesect: The Awakening of Mewtwo illustration with a calendar for April, May, June and July, with important dates (start of the ticket preorder period, start of the ticket preorder Mewtwo event download period, and movie premiere date) marked.
The back side will feature a Pikachu and its Eievui Friends illustration and a maze game. Correctly solving the maze makes you eligible to win various tie-in prizes.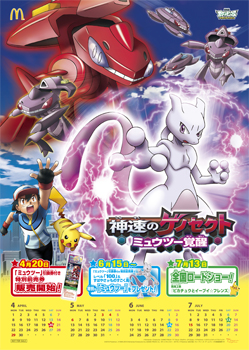 Source:
http://www.pokemon-movie.jp/news/?p=700