The official Pokémon Twitter account and Junichi Masuda both revealed that he had recorded a special video for the Japan Expo in Paris, France which took place from July 4th, 2013 until July 7th, 2013 at the Paris-Nord Villepinte Exhibition Center. Nintendo had a booth (stand DC95) at the expo which also had a section for Pokémon X and Y. Junichi Masuda's special video debuted there on July 4th, 2013 and it revealed
Monorpale
, the French name for the new Pokémon. Its Japanese name was also revealed as Hitotsuki (ヒトツキ).


The video was then posted on the official Pokémon YouTube page on July 5th, 2013 which revealed that the English name of the Pokémon is
Honedge
. It is a Steel/Ghost type Pokémon, its height is 2'07" and its weight is 4.4 lbs. An ancient soul is though to reside in the sword. Honedge comes into being when a departed spirit inhabits a sword that once belonged to humans. It can use the blue cloth attached to its hilt as nimbly as an arm. If you were to carelessly take this blade in hand, you may find that blue cloth wrapping around you...draining the energy from your body!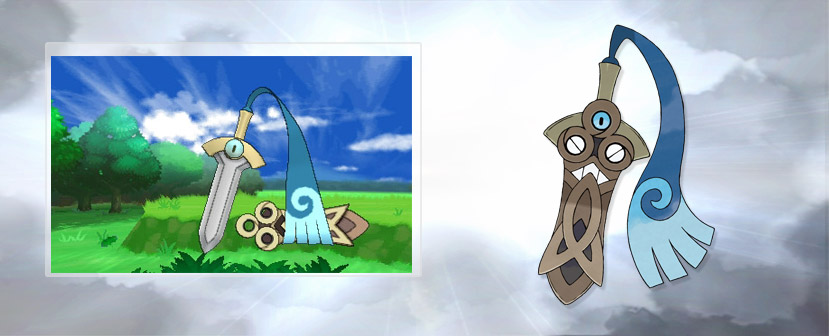 Honedge Revealed Video
Honedge can learn the Normal-type move Swords Dance, which sharply raises the user's Attack stat. Use this move at the beginning of battle against another Trainer, and be ready to defeat opposing Pokémon one after the other!

Japan Expo
Japan Expo is not a mere festival but a real party event! Among the many exhibitors you can find publishers from the Manga, Anime and video games markets, a great deal of shops, Young Designers inspired by Japan, as well as over 150 fanzines and amateur booths. From Manga to J-Music, Cosplay shows to martial arts, the festival tackles as much traditional Japanese culture as contemporary pop culture.
Sources:
http://www.japan-expo.com/
,
https://twitter.com/Pokemon
,
http://www.pokemonxy.com/en-us/pokemon/other_pokemon/
and
https://twitter.com/Junichi_Masuda