The Pokémon Company announced today that the
Pokémon Center Tokyo-Bay
will open for business on November 22nd, 2013. This will be the 8th main location Pokémon Center in Japan.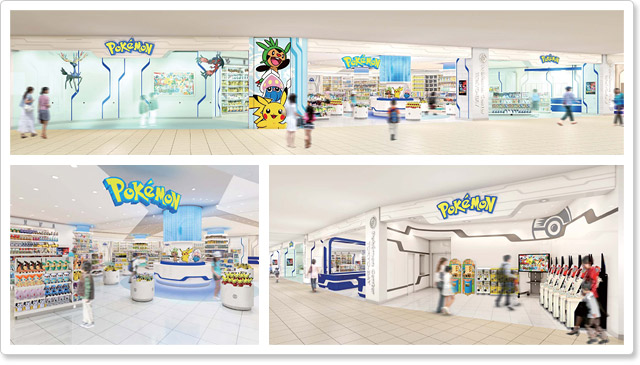 Pokémon Center Tokyo-Bay Location
Pokémon Center Tokyo Bay
Opening Hours: 10:00A.M. - 21:00P.M.
Address: 273-8530 Funabashi, Chiba Prefecture Hama-cho 2-1-1
Mitsui Shopping Park
LaLaport TOKYO-BAY West Wing second floor

ポケモンセンタートウキョーベイ
〒273-8530
千葉県船橋市浜町2-1-1
三井ショッピングパーク
ららぽーとTOKYO-BAY 西館2階
Inkay Event Distribution
As part of the official celebration, an Inkay (マーイーカ) will be distributed to all players of Pokémon X and Y. It is Level 10 and knows the moves called Happy Time (ハッピータイム), Foul Play (イカサマ), Hypnosis (さいみんじゅつ) and Topsy-turvy (ひっくりかえす). It is also holding a Aspear Berry. It will be distributed at the Pokémon Center Tokyo-Bay from November 22nd, 2013 until January 26th, 2014.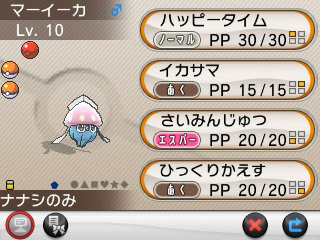 Pokémon Center Tokyo-Bay Merchandise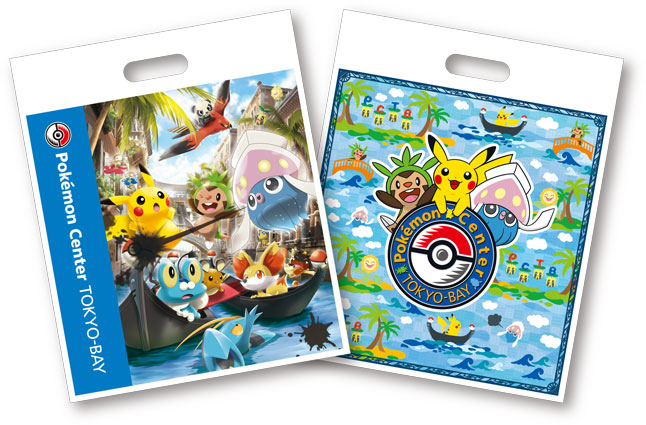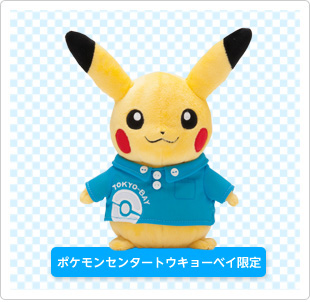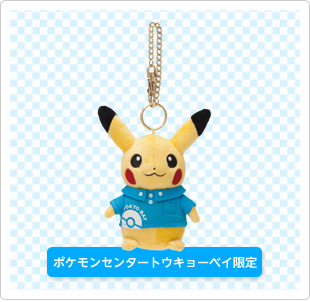 Pikachu Plushie Pokémon Center Tokyo-Bay OP (ぬいぐるみ ピカチュウ ポケモンセンタートウキョーベイOP) 1,200 yen
Mascot Pikachu Pokémon Center Tokyo-Bay OP (マスコット ピカチュウ ポケモンセンタートウキョーベイOP) 680 yen
A4 Clear File Pokémon Center Tokyo-Bay OP (A4クリアファイル ポケモンセンタートウキョーベイOP) 210 yen
General-purpose notebook Pokémon Center Tokyo-Bay OP (じゆうちょう ポケモンセンタートウキョーベイOP) 170 yen
A5 Spiral Notebook (A5リングノート ポケモンセンタートウキョーベイOP) 500 yen
Seal Pokémon Center Tokyo-Bay OP (シール ポケモンセンタートウキョーベイOP) 350 yen
5 Set of 2B Pencils Pokémon Center Tokyo-Bay OP (2B鉛筆5本セット ポケモンセンタートウキョーベイOP) 350 yen
6 Colored Ballpoint pens Pokémon Center Tokyo-Bay OP (6色ボールペン ポケモンセンタートウキョーベイOP) 600 yen
Ruler Pokémon Center Tokyo-Bay OP (定規 ポケモンセンタートウキョーベイOP) 250 yen
Pencil Cap Pokémon Center Tokyo-Bay OP (ジョイント鉛筆キャップ ポケモンセンタートウキョーベイOP) 320 yen
Hankerchief Pokémon Center Tokyo-Bay OP (ハンカチ ポケモンセンタートウキョーベイOP) 350 yen
Drawstring Pouch Pokémon Center Tokyo-Bay OP (巾着 ポケモンセンタートウキョーベイOP) 580 yen
Trump Pokémon Center Tokyo-Bay OP (トランプ ポケモンセンタートウキョーベイOP) 1,200 yen
Mug Pokémon Center Tokyo-Bay OP (マグカップ ポケモンセンタートウキョーベイOP) 1,200 yen
Metal Charm Set Pokémon Center Tokyo-Bay OP (メタルチャームセット ポケモンセンタートウキョーベイOP) 450 yen
Logo Pins Pokémon Center Tokyo-Bay OP (ロゴピンズ ポケモンセンタートウキョーベイOP) 650 yen
Cookies Pokémon Center Tokyo-Bay OP (ヒマワリの種入りクッキー ポケモンセンタートウキョーベイOP) 980 yen
LED Light Marker (LEDライト マーイーカ) 3,200 yen
Card File Pokémon Center Tokyo-Bay OP (カードファイル ポケモンセンタートウキョーベイOP) 630 yen
Deck Case Pokémon Center Tokyo-Bay OP (デッキケース ポケモンセンタートウキョーベイOP) 380 yen
Source:
http://www.pokemon.co.jp/ex/pokecen_tokyobay/