A page from the October issue of Corocoro Comic has leaked. Translations follow: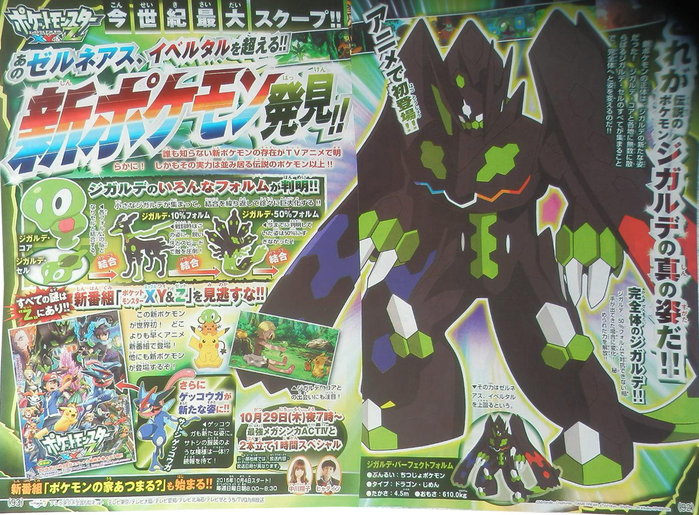 THE GREATEST SCOOP OF THE CENTURY!!
A NEW POKÉMON HAS BEEN DISCOVERED! ITS POWER SURPASSES XERNEAS AND YVELTAL!!
IT WILL MAKE ITS DEBUT IN THE ANIME!!


A new Pokémon no one has ever seen before will be revealed in the anime! Moreover, its power exceeds that of many legendary Pokémon!!
This is the legendary Pokémon Zygarde's new form!!
The true identity of the new Pokémon is a new Zygarde form! When Zygarde Core and the myriads of Zygarde Cell scattered around all over gather together, they change to the Complete Form!!
Zygarde's Complete Form!!
When Zygarde 50% Forme encounters an opponent it can't match in terms of power, it transforms! This unleashes its hidden power!!
This power is said to exceed that of Xerneas and Yveltal!
Zygarde Perfect Forme (ジガルデ・パーフェクトフォルム)
Species: Order Pokémon
Type: Ground/Dragon
Height: 4.5 m
Weight: 610.0 kg
Multiple Zygarde Formes have been confirmed!!
Zygarde Core (ジガルデ・コア)
Zygarde Cell (ジガルデ・セル)
The Core merges with the Cell, acting as the brain of all the other Formes.
Zygarde 10% Forme (ジガルデ・10%フォルム)
In combat, it turns into this form. It overwhelms the enemy with its sharp fangs and speed.
Zygarde 50% Forme (ジガルデ・50%フォルム)
The form we've known so far was only 50%!
All these mysteries have the letter "Z" in them!
Don't miss the new TV show "Pocket Monsters XY&Z"!! (ポケットモンスターXY&Z)
This new Pokémon will appear in this new show before it appears anywhere else! And other new Pokémon will appear as well!
Gekkouga gains a new form too!
Satoshi Gekkouga
Gekkouga has a new form too! It resembles Satoshi's clothes... what could it mean!? Stay tuned for breaking news!
Make note of this encounter with Zygarde Core too!
The show will premiere Thursday October 29th at 7pm as a 1 hour double episode special, airing together with The Strongest Mega Evolution Act IV
Another new show,
Pokémon no Uchi Atsumaru?
, will premiere as well!
It will start Sunday October 4th 2015 and will air every Sunday from 8am to 8:30am!
The show is hosted by Shoko Nakagawa and Hyadain!
Source Corocoro Comic, October 2015