Nintendo announced that a new handheld system will be released on July 28th, 2017 called the New Nintendo 2DS XL. It will cost $149.99 in the United States and $199.99 in Canada. The promotional video for the system showed it playing
Pokémon Sun and Moon
as well as other compatible games.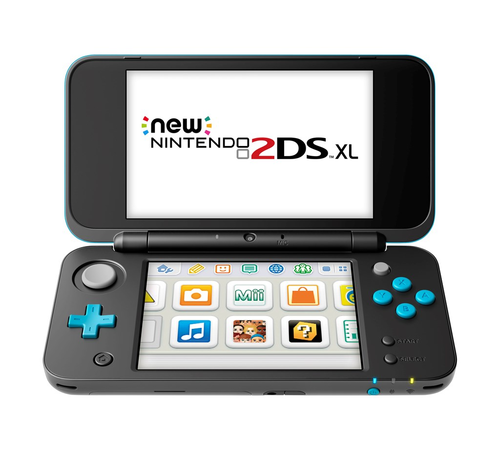 Nintendo to Launch New Nintendo 2DS XL Portable System on July 28
New Dedicated Hand-Held System Will Sell at a Suggested Retail Price of //media.pocketmonsters.net/news/2890/49.99
REDMOND, Wash., April 27, 2017 – The Nintendo 3DS family of systems will soon be adding a new member. On July 28, New Nintendo 2DS XL makes its debut in the United States at a suggested retail price of $149.99. The New Nintendo 2DS XL system gives consumers a third choice of hand-held systems, one that offers pricing and features that fit between the Nintendo 2DS and New Nintendo 3DS XL systems. New Nintendo 2DS XL will launch on the same day as two big new games for the Nintendo 3DS family of systems: Hey! PIKMIN and Miitopia.
"This new addition to Nintendo's portable hardware line demonstrates our commitment to the hand-held market," said Reggie Fils-Aime, Nintendo of America's President and COO. "New Nintendo 2DS XL sports a beautiful clamshell design and offers a great balance between price and performance."
The new system will be available in a stylish black/turquoise color, and will use the same size large screen found on New Nintendo 3DS XL systems. As the name of the new system implies, visuals will be displayed in 2D only. The system is lighter but still packs the same power as New Nintendo 3DS XL, and has built-in NFC support for amiibo cards and figures. It can play the massive library of quality Nintendo 3DS, New Nintendo 3DS and Nintendo DS games in 2D. Nintendo systems are also the only dedicated video game systems where people can find their favorite characters and game franchises, such as Mario, Peach, Yoshi, Kirby, Pokémon, Fire Emblem, Mario Kart, Super Smash Bros., Animal Crossing and The Legend of Zelda.
Source:
https://press.nintendo.com/en-CA/Nintendo-to-Launch-New-Nintendo-2DS-XL-Portable-System-on-July-28
YouTube: Introducing New Nintendo 2DS XL