Corocoro Online has updated with the first part of the Mewtwo Strikes Back Evolution Legend/Legend Collaboration Artwork Project. Translations follow:
The "Mewtwo Strikes Back Evolution" Premiere Celebration Project! Part 1: Ryouji Minagawa of "ARMS" Fame Draws "A Fierce Battle! Armored Mewtwo VS Iwark!!"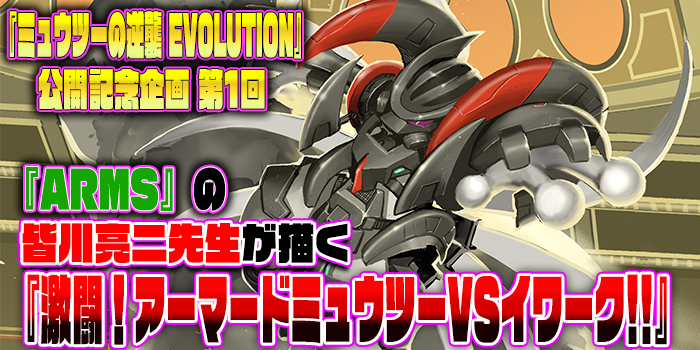 Ryouji Minagawa, creator of "ARMS" and "Spriggan", put his heart and soul into this drawing!!
"Mewtwo Strikes Back Evolution", the full 3DCG remake of the legendary movie that served as the starting point for the Pokémon movie series, finally premieres Friday July 12th!!
To celebrate this return of the legend itself, legendary manga artists and celebrities that love Pokémon have drawn pictures based on "Mewtwo Strikes Back Evolution"!
And believe it or not, for this first installment, the legendary artist that has fascinated so many fans with his powerful action scenes and attention to detail in series like
"Spriggan"
and
"ARMS"
, and who is currently serialized in "Monthly Shonen Sunday" with the super popular high sea action romance
"Dante, Ocean King"
,
Ryouji Minagawa
, joins the project!!
Artwork theme: "A Fierce Battle! Armored Mewtwo VS Iwark!!"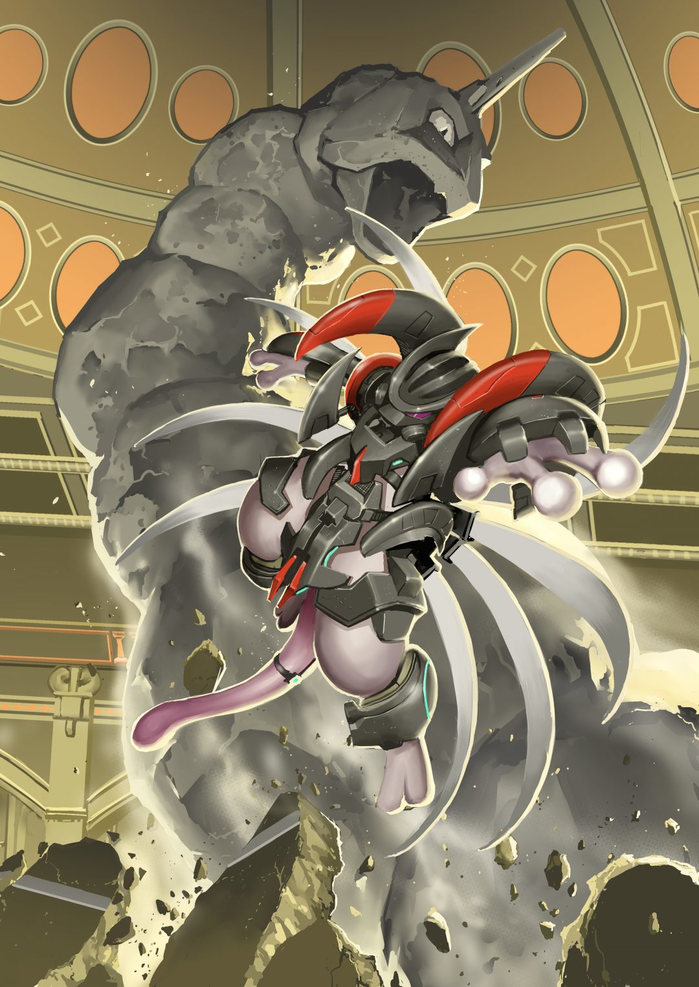 Mewtwo has been fighting in a variety of places, having been equipped with armor that controls and restrains his power by the Rocket Gang's boss Sakaki.
Ryouji Minagawa has put that scene on paper with intense energy!!
Armored Mewtwo takes on the enormous Iwark, remaining completely calm. This spectacular scene makes you truly feel the sensation of Armored Mewtwo's vibrant and lively movement as Iwark towers over it while bursting out of the ground!
The super intense battle scene is now complete!!!
We also have a special comment from Minagawa, who's a huge fan of Pokémon!!
Me and Pokémon go way back. I've been addicted since Red/Green on the Game Boy, I've been diligently watching the anime ever since episode 1, and I went to see the first Pokémon movie, Mewtwo Strikes Back. That was 21 years ago!
I was surprised when I heard they were remaking Mewtwo Strikes Back in full CG, but the fact that they involved me in all this by having me draw this picture is just...
This is an incredible honor. I'm so happy I stayed a fan of Pokémon!
I drew this picture trying to imagine how Mewtwo wearing this sturdy and complex armor has changed things after these 21 years.
I'm really looking forward to this movie!
-Ryouji Minagawa
Next week we'll present
a picture drawn by Machito Gomi
, who won the right to write the
"Mewtwo Strikes Back Evolution Comicalization" and "Pocket Monsters: Mewtwo! I Am Here"
manga for the Corocoro Comic magazines!!!
Look forward to seeing what kind of drawing we'll get!!