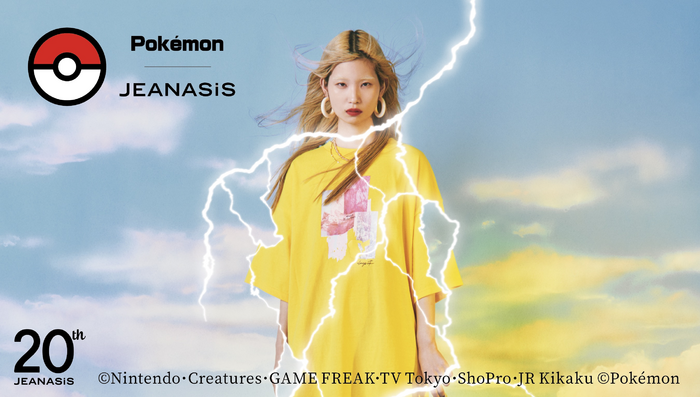 This year, the brand JEANASIS, which celebrates its 20th anniversary, launched the
SYNERGY PROJECT
to collaborate with companies, services, and cultural icons in Japan. A variety of projects are being carried out throughout the year. The first collection from JEANASIS' 20th anniversary project "SYNERGY PROJECT" features Pikachu, the world's most famous pop icon, and the line will go on sale starting on July 22nd, 2021 at the official web store and other participating stores.
High resolution images from the press release have been added to an Imageboard thread
.
About the Pikachu Collection
Pikachu is loved by people all over the world and by incorporating Pikachu into fashion in the JEANASIS brand, we support people who can pursue what they love to the fullest. Whether at home or outside, you can always be with Pikachu. This is the concept behind the first collection, which features nine items.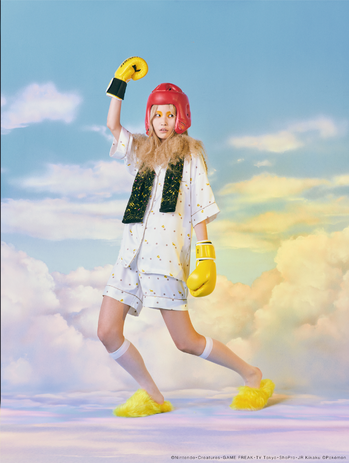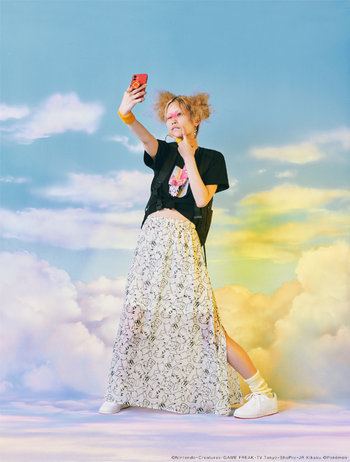 The apparel lineup includes four complete outfits featuring JEANASIS's unique playful designs, such as a big t-shirt with a Pikachu silhouette subtly hidden in a modern and arty print, a long skirt with a Pikachu pattern all over it, and a pajama set-up with dots and Pikachu scattered throughout, which turns into a monster ball when you look closely.
The household articles are easy to pick up as souvenirs, and there are many items that make you feel good just by having them. A total of five items will be available, including an adorable towel with a Pikachu pattern all-over it, and a smartphone accessory (smartphone grip) with an energetic and positive design of Pikachu running around.
For the advertising visuals, MOTTY, who specializes in addictive colors and edgy, surrealistic expressions, was chosen as the art director. "The visuals were created with the image of a Pikachu geek girl bursting into the sky. I'm an adult and I love fashion, but I always have Pikachu in my heart."
A second set will be released in October! The autumn/winter Pikachu collection will have a completely different style from this one. Please look forward to the autumn and winter items such as coats and knitwear!
Item List (English):
1) Big T-Shirt (3 colors) - 5,500 yen (Tax Included)
2) Long flared skirt (2 colors) - 8,250 yen (Tax Included)
3) Hoodie (2 colors) - 7,150 yen (Tax Included)
4) Pajamas upper and lower set (all 2 colors) - 9,900 yen (Tax Included)
5) Tote bag (4 patterns) - 2,750 yen (tax included)
6) Smartphone grip (4 patterns) - 3,300 yen (Tax Included)
7) Mirror (2 patterns) - 2,200 yen (tax included)
8) BIG Towel (2 patterns) - 4,950 yen (tax included)
9) Scarf Towel (4 patterns) - 3,300 yen (tax included)
Item List (Japanese):
①BIG T シャツ(全3 色) - ¥5,500(税込)
②ロングフレアスカート(全2 色) - ¥8,250(税込)
③フーディー(全2 色) - ¥7,150(税込)
④パジャマ上下セット(全2 色) - ¥9,900(税込)
⑤トートバッグ(全4 柄) - ¥2,750(税込)
⑥スマホグリップ(全4 柄) - ¥3,300(税込)
⑦ミラー(全2 柄) - ¥2,200(税込)
⑧BIG タオル(全2 柄) - ¥4,950(税込)
⑨マフラータオル(全4 柄) - ¥3,300(税込)
Source:
https://www.dot-st.com/cp/jeanasis/20th_pikachu