Premium Bandai will begin taking pre-orders for the
PC Cushion Wanpachi (PCクッション ワンパチ)
on August 25, 2021 at 11:00 a.m. JST for 5,720 yen (tax included).
High resolution pictures of this plushie have been added to an Imageboard thread
.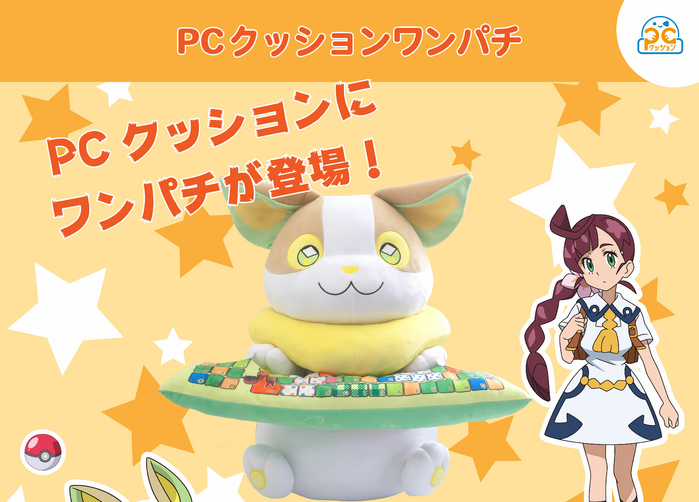 Premium Bandai - PC Cushion Wanpachi (PCクッション ワンパチ)
This product is a PC cushion featuring Wanpachi, a cuddly Pokémon that appears in the anime Pocket Monsters. The set includes a plush PC cushion and armrest, ideal for long hours of PC work at home or in the office. The armrests are removable, so you can use the cushion with armrests, the cushion alone, or the armrests alone, making it a 3-way set that can be used in different situations.
Wanpachi is a Pokémon that is very attached to Koharu. Its fluffy form is cute, and the way it runs around actively with its short arms and legs is also soothing. It also has an adorable cry and very cute. If you hold this PC cushion between your desk and your body, you can enjoy working on your PC in a comfortable posture. The included armrest section is filled with cute Pokémon! You can put your arms on the armrest to avoid arm fatigue, and it can also be removed for use. Put it down and relax. Put it on the armrest to relax. You can hold it and be comforted. These cushions will make your daily desk work, such as computer work and study, more enjoyable.
Product Details:
The set includes: Plush cushion: 1 piece Armrest: 1 piece Product material: Polyester, synthetic rubber, UP Size: Approx. 52cm (W) x 39cm (H) x 36cm (D) Sales price: 5,720 yen (tax included) Pre-order Start Date: August 25, 2021, 11:00 a.m. Delivery date: Scheduled to be shipped in November 2021