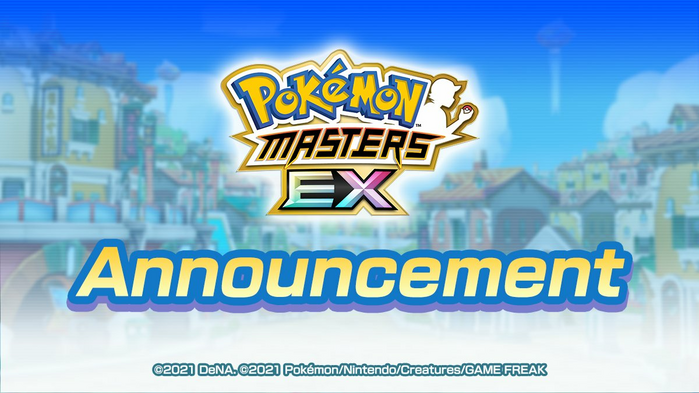 The producer of Pokémon Masters Yu Sasaki posted an open letter about the game on the Pokémon Master's official website. The letter addresses the upcoming changes to the game including:
A Message from the Pokémon Masters EX Team (Vol. 25)
Greetings, Trainers. We're the producers of Pokémon Masters EX, Yu Sasaki and Tetsuya Iguchi, here with a new message for you.
Today, we'll focus on details about the newest arc of the Main Story—the Villain Arc—as well as a new kind of story event.
App Update for Late September
Main Story UI Update
- To coincide with the September 29, 2021 release of the newest arc of the Main Story—the Villain Arc—the UI for the Main Story menu has been updated.
The First Chapter of the Villain Arc Begins!
On September 29, 2021, the new Main Story arc—the Villain Arc—will begin. As we mentioned in previous messages, this arc focuses on various villainous organizations of the Pokémon series.
The Kanto chapter, which is the first chapter of this arc and is set to release on September 29, 2021, brings you the schemes of Team Rocket and Giovanni, who also appeared in the prelude. By completing the Kanto chapter, including the Hard battles, you'll receive enough Tickets for two uses of the 5★-Guaranteed Kanto Ticket Scout as rewards, so we hope you give it a try.
As for our Villain Arc plans going forward, we hope to bring you periodic chapters for different villains of the Pokémon series. The next update is scheduled for the end of this year.
Each chapter will be stand-alone, so you can enjoy them in any order, but the developments and conclusions of each chapter will ultimately come together in the end.
Also, alongside these updates, we're going to start another story that's based on a certain character. This story will be different from the chapters that focus on each region. We're planning to release a portion of this particular story before the update at the end of the year, so we hope you look forward to it.
Villain Event: Spreading Shadows Begins!
In the Villain Arc, events that are separate from the Main Story updates will also be held.
You can already raise Giovanni & Mewtwo to 6★ EX during the ongoing event, but as the main reward of future Villain Events, you'll be able to strengthen Sync Pairs from legendary events that come from the same titles as the villainous Sync Pair featured in the event.
In this event, which will be happening at the same time as the Villain Arc's Kanto chapter, you can strengthen Giovanni & Mewtwo even more. By collecting Mewtwo Crystals from the event, you can have Mewtwo become Mega Mewtwo Y after using Giovanni & Mewtwo's Sync Move.
Sync Pairs from the Kanto region get a strength bonus during this event, so we recommend training your Kanto Sync Pairs in preparation.
Two New Sygna Suit Sync Pairs Debut!
Starting September 29, 2021, new Kanto Sync Pairs wearing sygna suits who play a part in the Kanto chapter of the Main Story's Villain Arc will debut in the Sync Pair Scout. The Trainers in these Sync Pairs are Sygna Suit Misty and Sygna Suit Erika. More new Sync Pairs in sygna suits will appear in the Villain Arc in the future, so be on the lookout for them.
Sygna Suit Misty & Vaporeon
Sygna Suit Misty & Vaporeon are a tech Sync Pair with some clever capabilities. Their Mist Move has a field effect that prevents stats from being lowered on the allied field of play, and their Haze Move returns the opponent's raised stats to normal, so they could be a huge asset on your team when facing opponents that raise or lower stats. They also have a Passive Skill that charges the Move Gauge by four when using status moves like Mist and Haze, making them a Sync Pair that can battle while having plenty of Move Gauge to spare.
Sygna Suit Erika & Leafeon
Sygna Suit Erika & Leafeon are a Grass-type tech Sync Pair that can use Sunny Day. Using Sunny Day to make the Weather sunny triggers their Passive Skills. One of their Passive Skills increases the power of their Moves, another accelerates the Move Gauge, and another has a chance to reduce the sync move countdown after using a Move. Their Soak Up the Sun! Move raises their Attack by two stat ranks and their critical-hit rate by one stat rank, but if the Weather is sunny, it raises their Attack by an additional two stat ranks, raises their critical-hit rate by another stat rank, and applies the Gradual Healing effect to themselves. With this Sync Pair, you can control the Weather to make them more powerful and then unleash their Solar Blade attack Move on the opponent.
Fall Mini-Event
On October 6, 2021, a fall-themed mini-event will begin. In many countries, fall is seen as a season of harvesting, and it seems that even on Pasio, there are Pokémon that work up quite an appetite around this time of year. We hope you look forward to finding out which Sync Pairs will appear in this event.
You can get incredible rewards from this event, such as 5★ Kanto Scout Ticket ×30.
Daily Region Rotation Rewards Update
Starting October 7, 2021, the completion rewards for the Daily Region Rotation will be updated, and you'll be able to get 5★-Guaranteed Scout Tickets for each region.
There is no difference in the amount of tickets you can get from each difficulty level. You can get one ticket by completing one battle, and if you collect 30 tickets, you'll be able to use the scout for that region. To coincide with this update, we'll begin adding ticket scouts for each region to the Shop.
Each scout guarantees you one 5★ Sync Pair from a lineup of Sync Pairs from the designated region, so try playing the battles multiple times to get Sync Pairs from each region.
Additionally, we plan to offer Tickets for each region as rewards for various events in the future.
New Seasonal Sync Pairs
On October 13, 2021, new seasonal Sync Pairs will debut.
Have a look at the silhouettes of the Pokémon for these Sync Pairs. Which Trainers do you think will team up with these Pokémon?
It also seems that the event these sync pairs appear in will have a spooky flavor to it. We're planning on bringing back last year's seasonal event as well, so we hope you look forward to it.
Uxie Arrives in the Legendary Arena!
Uxie will arrive in the Legendary Arena on October 21, 2021. Uxie is weak to Ghost-type attacks. In this battle, you'll have to inflict status conditions like burning and poison and status changes like confusion and trapped based on the situation.
The new seasonal Sync Pairs are effective in this battle, so if you're having a hard time defeating Uxie, try adding one of them to your team.
As always, strategy tips will be available for this battle. You'll be able to find them in a notification for this event or from Battle Tips in the bottom-left corner of the Legendary Arena's difficulty selection screen.
The Beginning of a New Story Event
Starting at the end of October, we'll present a story event in a new way. This event will feature Sync Pairs wearing special outfits that are different from sygna suits or seasonal outfits. The outfits will be based on special event stories. We'll share more detailed information about this event in our next message just before the event starts, so stay tuned.
What to Expect in the Next Message
Our next message is scheduled for late October. In it, we plan to share more detailed information about the new story event and discuss what's coming up next in the Villain Arc.
We're always working hard to deliver updates and improvements that make the world of Pokémon Masters EX as fun as possible.
We prioritize Trainers' feedback throughout the development process, so don't hesitate to let us know what you think.
Until next time, thank you for playing Pokémon Masters EX.
Pokémon Masters EX Producer: Yu Sasaki
Operations Producer: Tetsuya Iguchi
Note: The content mentioned in this message is currently under development. Titles, plans, update content, and update times are all subject to change.
Source:
https://pokemonmasters-game.com/en-US/announcements/Other_3080_4W_1M
YouTube Clip - The Villain Arc Begins!
Source:
https://www.youtube.com/watch?v=GUFat4F6XVg