The
Pokémon 25: THE ALBUM
was released on October 15th, 2021. A P25 Official Music Store Pop-up has opened to sell official merchandise and the album.
High resolution pictures of the P25 Music virtual merch store items have been added to an Imageboard thread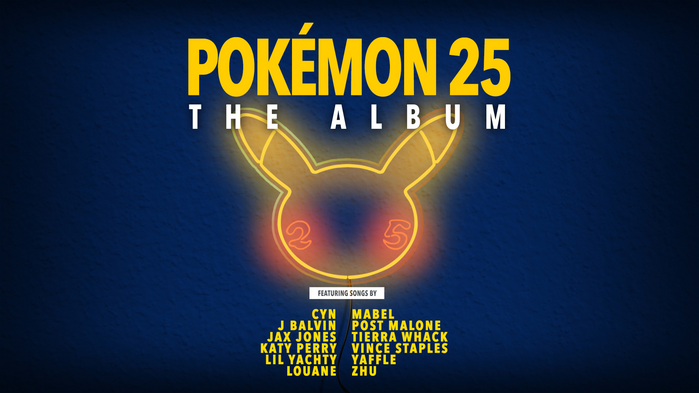 Pokémon 25: THE ALBUM IS OUT TODAY
View Official Video for J Balvin's New Song, Ten Cuidado ​​​​​​​Artists from around the World Celebrate 25 Years of Pokémon on Compilation, Which Also FeaturesKaty Perry, Post Malone, Jax Jones, Louane, Vince Staples, Mabel, and More
Artists from around the globe have come together to celebrate the 25th anniversary of Pokémon with songs inspired by the global entertainment franchise and recorded exclusively for
Pokémon 25: The Album
. The compilation was released today in digital and CD formats by Capitol Records as part of a massive, yearlong music campaign from The Pokémon Company International in partnership with Universal Music Group. Get
Pokémon 25: The Album
HERE.
View the album trailer
HERE
.
The official video for
J Balvins
contribution, "Ten Cuidado," debuted today and can be viewed
HERE
. The award-winning Colombian singer, known to most as Reggaetons global ambassador, is joined by some of his favorite Pokémon — Pikachu, Hitmontop, Totodile, Loudred, and Charizard — in the clip, which was shot in New York City. Colin Tilley (Halsey, Kendrick Lamar, Cardi B), who helmed Balvins MTV VMA award-winning official video for "Rojo," directed.
"I always wanted to be Ash Ketchum and through this collaboration with Pokémon Ive been able to live out a childhood dream," said J Balvin. "That love for Pokémon inspired 'Ten Cuidado, my contribution to P25 Music, as well as the video in which I get to be a Pokémon Trainer in New York City. I cant wait to share my fandom for Pokémon with my fans around the world with this song and still cant believe I get to be part of this project."
"The release of Pokémon 25: The Album marks the culmination of a yearlong music celebration of Pokémon by an amazing array of global artists," said Colin Palmer, vice president of marketing for The Pokémon Company International. "From Katy Perry and Post Malone to todays release of J Balvins contribution to the album, all of the artists brought a unique perspective to this collection, which we hope brings music fans as much joy as Pokémon has delivered for 25 years."
Tokyo-based artist/producer
Yaffle
created the new track "Reconnect" (feat. Daichi Yamamoto & AAAMYYY) for
P25 Music
. French singer
Louane
, UK artists
Mabel
and
Jax Jones
with
Sinead Harnett
further attest to Pokémons universal appeal.
Post Malone
offers up
"
Only Wanna Be With You (Pokémon 25 Version)," a surprising take on the Hootie and the Blowfish hit, and
Katy Perry led the charge with the uplifting single
"Electric".
Vince Staples
,
Cyn
,
Lil Yachty,
and
Tierra Whack
also joined in the celebration. See below for tracklisting.
Director Eric Maldin (U2, 30 Seconds To Mars) takes
Vince Staples, Mabel,
and
Cyn
on a surreal walk down memory lane, exploring their early experiences with Pokémon and how they went about creating their original songs for P25 Music in the new "Evolution of a Song" video series. The episodes also feature
ZHU
in the studio, discussing the evolution of his remixes of
Staples
"Got 'Em" and
Cyns
"Wonderful," found on the digital edition alongside his remix of "Take It Home" by
Mabel
. View "Evolution of a Song" at
https://pokemon25.lnk.to/eoasplaylistPR
.
The P25 Music virtual merch store — UMGs first ever multi-artist interactive shopping experience — launched today with new merchandise from
J Balvin
,
Katy Perry,
and
ZHU
. Check out the animated, interactive virtual pop-up shop
HERE
. A special colored vinyl edition of
Pokémon 25: The Album
will be released in February 2022 in celebration of Pokémon Day.It is now available for
preorder
.
Fans can keep up with the latest news for P25 Music and more celebrations across the franchise on Pokémons 25th anniversary website at
Pokemon.com/25
.
Pokémon and music fans are invited to join the conversation online with @Pokemon and #Pokemon25.
Pokémon 25: The Album Tracklist
Katy Perry — Electric
Jax Jones — Phases (with Sinead Harnett)
Mabel — Take It Home
Lil Yachty — Believing
J Balvin — Ten Cuidado
Cyn — Wonderful
Vince Staples — Got Em
Louane — Game Girl
Tierra Whack — Art Show
Post Malone — Only Wanna Be With You (Pokémon 25 Version)
11.Yaffle — Reconnect (feat. Daichi Yamamoto & AAAMYYY)*
Mabel — Take It Home (ZHU Remix)*
Cyn — Wonderful (ZHU Remix)*
Vince Staples — Got Em (ZHU Remix)*
P25 Official Music Store - Item List

KATY PERRY
POKÉMON X KP T-SHIRT (WHITE) - $30.00
POKÉMON X KP T-SHIRT (BLACK) - $30.00
POKÉMON X KP BUCKET HAT - $50.00
'Electric' T-Shirt - $30.00
'Electric' Color Block Pullover Hoodie - $65.00
'Electric' Tote Bag - $30.00
ZHU
GENGAR X ZHU T-SHIRT (WHITE) - $40.00
GENGAR X ZHU T-SHIRT (BLACK) - $40.00
LEGENDARY FLAG X ZHU T-SHIRT (BLACK) - $40.00
LEGENDARY FLAG X ZHU TIE DYE T-SHIRT - $40.00
LEGENDARY FLAG X ZHU CREWNECK - $100.00
LEGENDARY FLAG X ZHU DENIM JACKET - $175.00
J BALVIN
POKÉMON X J BALVIN T-SHIRT - $40.00
POKÉMON X J BALVIN SMILEY T-SHIRT - $40.00
POKÉMON X J BALVIN BANDANA T-SHIRT - $40.00
POKÉMON X J BALVIN BANDANA HOODIE - $65.00
POKÉMON X J BALVIN BANDANA TOTE - $35.00
POKÉMON X J BALVIN BANDANA - $25.00
P25: THE ALBUM
POKÉMON 25: THE ALBUM - DIGITAL - $11.99
POKÉMON 25: THE ALBUM - CD - $11.98
POKÉMON 25: THE ALBUM - YELLOW LP - $27.98
ELECTRIC - KATY PERRY - $4.99
Source:
https://p25musicstore.com/
YouTube Clip - Pokémon 25: The Album Trailer
Source:
https://www.youtube.com/watch?v=_o0sBty5A5Q
YouTube Clip - J. Balvin - Ten Cuidado (Pokémon 25 Version)
Source:
https://www.youtube.com/watch?v=K_IjmegkXuY