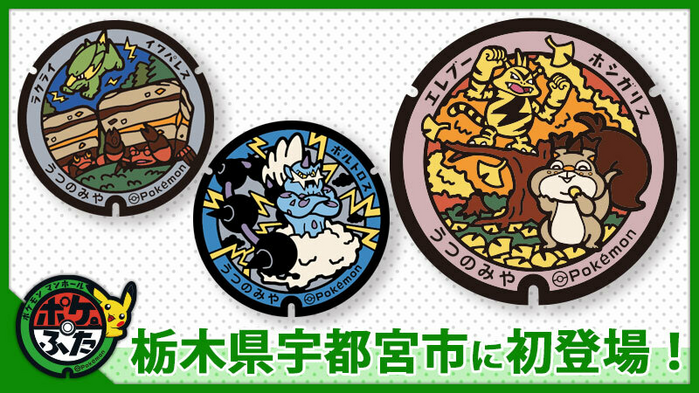 Today, three new Pokémon Utility Hole Covers, or PokéLids (Pokéfuta ポケふた) were unveiled in Utsunomiya City, Tochigi Prefecture. The three new manholes depict Eleboo and Hoshigarisu, Rakurai, Iwapalace, and Voltolos, based on images of various landscapes in Utsunomiya City, and will be installed in the city. The PokéLids will be the first ones to be installed in Tochigi Prefecture.
Pictures from the press release have been added to an Imageboard thread
.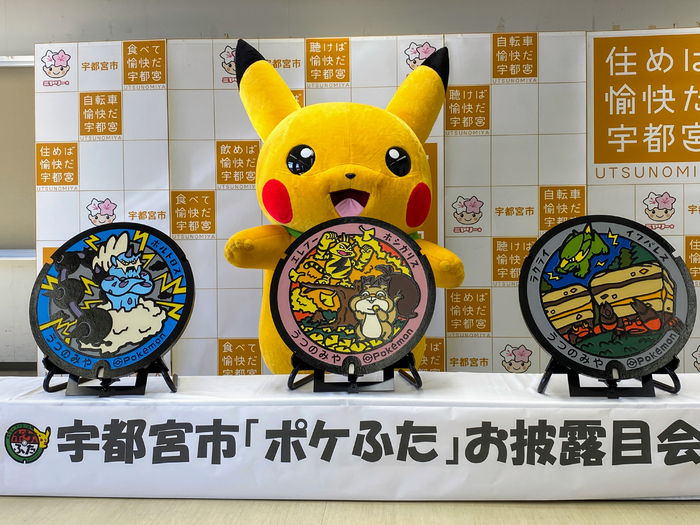 Each PokéLids is an original design and each is unique with the aim of promoting the appeal of Pokémon and each region they are installed in throughout Japan.
The PokéLids that are installed will gradually become PokéStops for the location-based game Pokémon GO for smartphones.
Three New PokéLids in Utsunomiya City
① Eleboo and Hoshigarisu PokéLids: 5-10-1 Motoimaizumi, Utsunomiya City, Tochigi Prefecture (栃木県宇都宮市元今泉5丁目10-1)
② Rakurai and Iwapalace PokéLids: Ozo 2-chome, Utsunomiya City, Tochigi Prefecture (ラクライとイワパレスのポケふた:栃木県宇都宮市大曽2丁目地内)
③ Voltolos PokéLids: 254 Hei, Nissatomachi, Utsunomiya City, Tochigi Prefecture (栃木県宇都宮市新里町丙254番地)
Source:
https://twitter.com/Pokemon_cojp/status/1484027938420973568