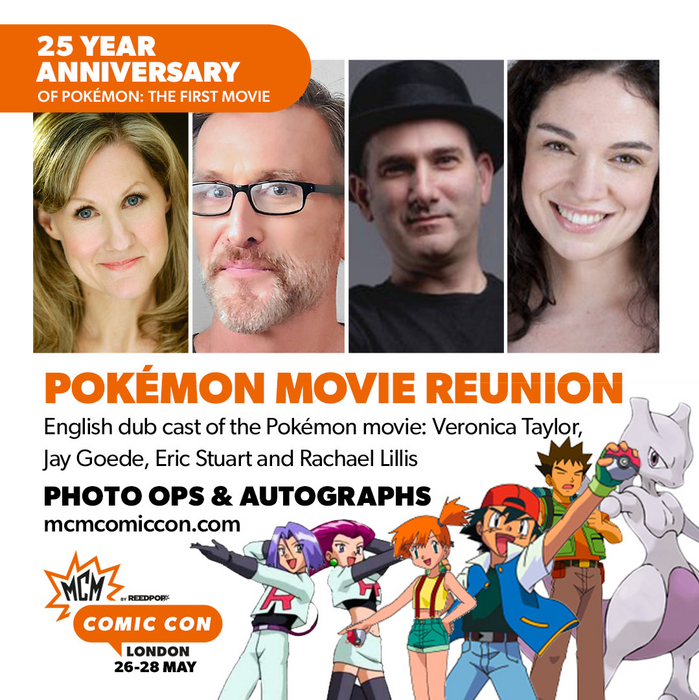 To celebrate 25 years since the initial release of
Pokémon: The First Movie
, MCM is hosting an English dub cast reunion during MCM Comic Con London May 2023. Join Veronica Taylor, Jay Goede, Eric Stuart & Rachael Lillis all weekend! Photo ops and autographs will be available. The ticket price range is from £18.33 to £62.50 for a weekend pass.
MCM Comic Con London May 2023
Time to get excited for the best weekend of the year! We can't wait to welcome you back for an unforgettable three-day celebration of all things pop culture as MCM returns to ExCeL London 26-28 May 2023 for our first MCM Comic Con of the year!
Don't miss out on the chance to meet your favourite film, gaming and anime stars. Embrace the joy of browsing art and comics from independent and mainstream creators. Dance in the sunshine at our MCM Fringe Stage. Battle your friends (or make new ones!) in tabletop tournaments and play the hottest console games around.
At MCM Comic Con, you're free to be yourself and experience all the special little moments you don't get anywhere else.
Sources:
https://discord.com/channels/270410630496911361/270410630496911361/1068585588564971520
and
https://www.showclix.com/event/mcm-comic-con-london-2023Ap6hn