The latest episode of Pocket Monsters
Best Wishes 13 - Chillarmy is Tidy!? (チラーミィはきれいずき!?)
aired on Thursday in Japan.
The trio of Satoshi, Iris and Dent are traveling together on route to Shippo City for Satoshi's second Gym Battle but today they have encountered Bel, a friend of Professor Araragi who was looking for Satoshi to deliver a badge case. Before she could deliver it to him a Chillarmy took the badge case because it was dirty. Will Satoshi get his badge case?
Characters
and
Pictures
from this episode have been added to the
episode guide
. You can also
comment and discuss
this episode on the forum. Also be sure to rate this and other episodes in the
episode guide
.
Egg Events
To celebrate Satoshi receiving a Pokémon egg, a special Pokémon Mystery Egg event for
Pokémon Black and White
started today,
December 17th, 2010 and will end on January 11th, 2011
. Players can only receive one egg per game and the egg will hatch into one of three random Pokémon:
Kibago
,
Mamepato
,
Yanappu
. The event will be available via Nintendo Wi-Fi Connection, at Nintendo Zone locations (such as participating McDonalds), and DS Station locations in Japan.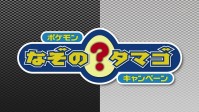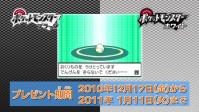 Click on images for higher resolution
Below is a list of the random Pokémon available in the egg. Click on them for event information. Each of the Pokémon is based off a main characters Pokémon from Best Wishes:
Satoshi's Mamepato
,
Iris' Kibago
and
Dent's Yanappu
.