Welcome to PocketMonsters.net
PocketMonsters.net
is a fansite dedicated to all things Pokémon (ポケモン) and Pocket Monsters (ポケットモンスター). We are the premier site for news and information about all aspects of the franchise from around the world. We cover the
Anime
,
indexing the music
, the
Trading Card Game
, the
Games
, the
variety shows
, have a
large imageboard
,
forum
and much more.
Follow us on Twitter
and
Subscribe to our RSS Feed
for the latest updates!
Latest News

13 Dec
11 Dec
04 Dec
30 Nov
28 Nov
21 Nov
News Tag Filter:
Niantic
Dec 13
Trainer Battles recently launched in Pokémon GO
and Niantic has posted a developer blog with some information on how they created Trainer Battles for the game.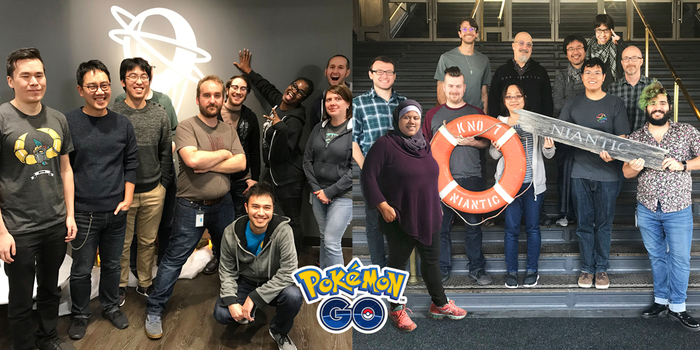 Pokémon GO - Developer Insights: Scaling Challenges for Trainer Battles
Alongside catching Pokémon and trading them with friends, there's perhaps no greater hallmark of the core Pokémon experience than battling other Trainers. While Trainers have been able to participate competitively in Gym battles and cooperatively in Raid Battles thus far, we're proud that Trainer Battles will be available to Trainers starting today.
When it comes to creating a fun and engaging Trainer Battle experience, we had to strike a careful balance. On one hand, we wanted the system to be easy and straightforward enough for any Trainer—even someone relatively unfamiliar with the mechanics of Pokémon video games. At the same time, we wanted to create a unique competitive experience that gave Trainers who are passionate about battle an avenue to create complex strategies. We accomplished this balance by implementing Trainer Battle Leagues and creating even more opportunities for Trainers to build battle strategies.
Even if you're a casual Trainer who hasn't been cultivating Pokémon with unique prowess in battle, you can participate in a Trainer Battle League that allows for engaging play. Capping the CP on the Pokémon eligible to battle helps to set a more even playing field. Additionally, the Trainer Battle Leagues all carry the same rewards and give to both participants equally. Trainers who feel more comfortable playing with lower-CP Pokémon or who are still learning the ground rules of Trainer Battles will not be penalized in any way. Of course, those looking for a challenge will be able to show their strength in the Master League, which has no limits on the CP of Pokémon that can battle!
Leagues aren't just for new-player accessibility. Fans of previous Pokémon video games know that restrictions on allowed Pokémon change the competitive landscape drastically. Since the Master League allows the most-powerful Pokémon to operate at full strength, winning strategies may involve powerful Legendary Pokémon and clever counters. Compare this to the Great League—the CP limitation means almost every Pokémon is on an even CP playing field. This means a huge number of Pokémon all need to be considered, so winning strategies may revolve more heavily around creative type matchups and surprising your opponent with the unexpected.
In designing Trainer Battles, we wanted to emphasize the importance of strategy. For example, battle updates that accompany Trainer Battles will increase type-effectiveness bonuses, and Trainers will be able to unlock an additional Charged Attack for their Pokémon to increase their versatility in battle. Changes like these enable Trainers to think more creatively in order to beat their opponent in a fast-paced format that is unique to Pokémon GO. Do you want to create a team that's optimized to counter Pokémon most commonly used among friends? Or do you create a team that has diverse moves that cover more types? Exactly which Charged Attacks do you want your Pokémon to have? Which do you think your opponent has? These are just a few of the many questions we believe Trainers will mull over when picking their ideal Pokémon battle party, creating an interesting and diverse landscape of local metagames.
More holistically, we're happy to say that Trainer Battles build upon Pokémon GO's emphasis on encouraging in-person social interaction, with only Ultra Friends and Best Friends having the ability to battle remotely." We hope that Trainers will be able to construct their own competitions, based on their local metagame and play patterns, to suit their needs. We can't wait to see the stories from local groups, meet Ace Trainers and Veterans, and see how the feature grows within the community. After all, the ideal meta gameplay will be discovered by the players, not by us. We'll be keeping an eye on the game balance as well!
Thank you so much for your enthusiasm for this feature. We've brought several exciting features to Pokémon GO this year—Field and Special Research, friends and trading, and Adventure Sync—and we're excited to cap 2018 off with yet another brand-new way to enjoy Pokémon GO. Like always, we have plenty more in store as we head into the new year. Stay tuned!
Source:
https://pokemongolive.com/post/trainerbattles-devinsights

Article edited on 2018-12-13 09:42:05 by Sunain
Dec 11
Niantic has pushed a new update for Pokémon GO updating it to iOS Version 1.99.1 and Android Version 0.131.1. Below are the patch notes for the game.
Patch Notes: November 11th, 2018 - iOS Version 1.99.1 and Android Version 0.131.1
Trainers can now challenge someone nearby to a Trainer Battle by scanning their Battle Code.
Trainers can send remote Trainer Battle challenges to their Ultra Friends or Best Friends.
Trainers can also Trainer Battle against team leaders Spark, Candela, and Blanche.
Trainer Battles take place in one of three different Trainer Battle Leagues, and each requires a team of three Pokémon. Each Trainer Battle League has different Pokémon CP limits.
Trainers can earn rewards for participating in Trainer Battles.
New hair colors and skin tones will be available for Trainer avatars.
Source:
https://play.google.com/store/apps/details?id=com.nianticlabs.pokemongo

Article edited on 2018-12-12 06:01:27 by Sunain
Dec 04
Niantic officially announced Trainer Battles which were
teased about in the past few days on social media
. The feature will be available later in December 2018.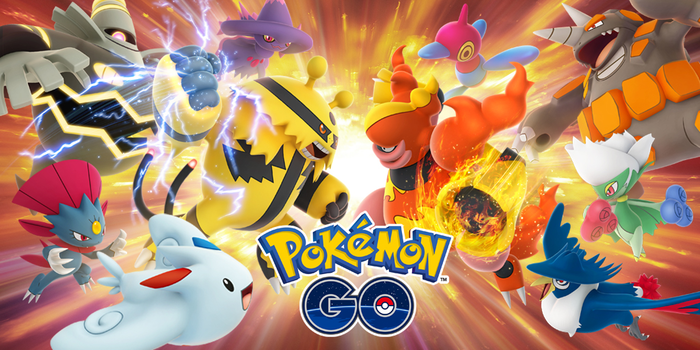 COMING SOON: Show your skills with Pokémon GO Trainer Battles!
Trainers, From encountering and catching your first Pokémon to assembling a powerful team to take on a Legendary Pokémon in Raid Battles, you have certainly built incredible skills as a Trainer over the last two years. Are you ready for the next big challenge? Show off your skills against others with Trainer Battles, coming soon to Pokémon GO!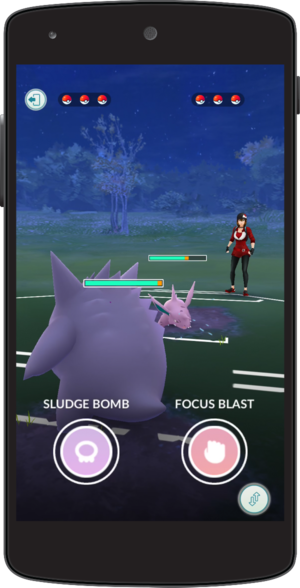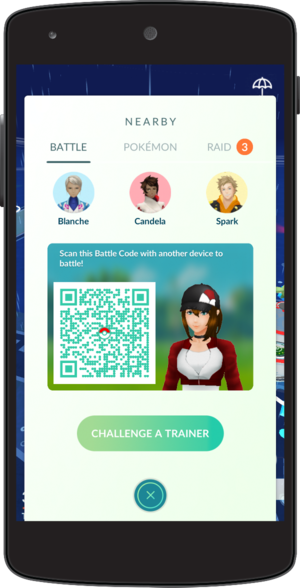 Beginning this month, Trainer Battles will allow you to challenge a friend or another Trainer at any time! Challenge another Trainer using a Battle Code, assemble a team of three Pokémon, and see who comes out on top! When Trainer Battles are completed, both participants will receive great rewards, including a chance at rare Evolution items.
In order to ensure an even playing field, Trainers must compete in the same Trainer Battle League, which determines the CP limit for the participating Pokémon. Strength alone will not ensure victory! Whether you're battling with a Caterpie or a Mewtwo, the cleverer and more strategic Trainer will have an advantage.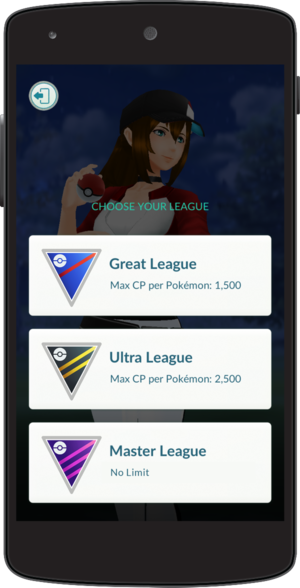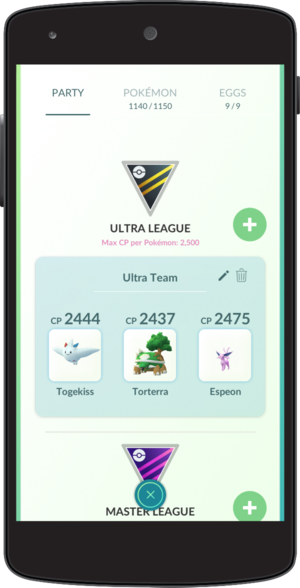 Battles are fast-paced and real-time, so don't expect to wait your turn! Your selected team of Pokémon will be able to execute both their Fast Attack and Charged Attack moves. In preparation for battle, you'll even be able to use Stardust and Candy to unlock a bonus Charged Attack for your Pokémon. Timing is important! If you use your head and keep an eye on your opponent's moves, you may be able to deploy a Protect Shield to save your Pokémon from critical damage. But you only have a limited number of these shields before your Pokémon will be left defenseless.
While Trainers will usually have to be nearby in order to initiate a Trainer Battle, Ultra Friends and Best Friends can challenge each other from any distance. So, near or far, you can battle with your closest friends!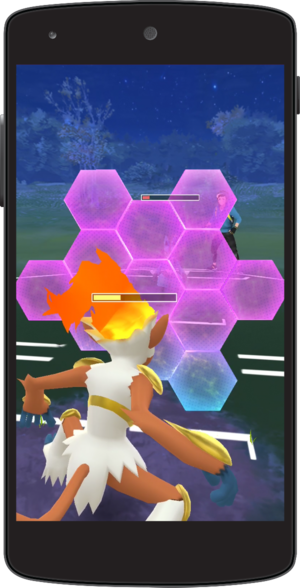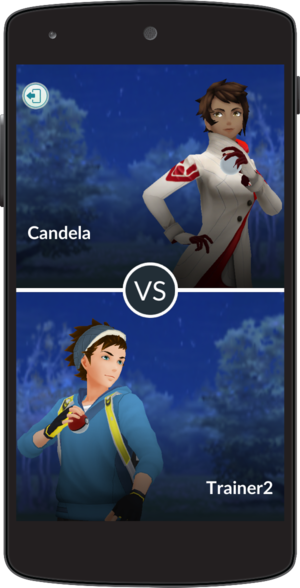 Looking to learn the ropes or sharpen your budding battle skills? Team leaders Spark, Candela, and Blanche are eager to test your bravery! You can earn rewards once per day when training with a team leader, including Stardust to help power up your Pokémon. Work toward earning an Ace Trainer medal!
It's up to you to get your Pokémon into shape! The only way you'll become a Trainer Battle master is to get out there and GO!
Source:
https://pokemongolive.com/en/post/trainerbattles/

Article edited on 2018-12-04 03:49:53 by Sunain
Nov 30
Niantic has teased that Player vs Player (PvP) Trainer Battles will be added in an upcoming update for Pokémon GO. When designing Trainer Battles, Niantic wanted to create an experience that everyone can enjoy and ensure that different kinds of Pokémon can show their strengths! With Leagues in Trainer Battles, Niantic hopes to create a system that's accessible to many Trainers.
The introduction of Trainer Battles brings along with it three Pokémon GO Trainer Battle Leagues: Great, Ultra, and Master! Trainers will need to choose a league before going into a Trainer Battle, with each league having different maximum Pokémon CP limits. While Pokémon with high CP might be a big advantage in Master League battles, Trainers will have to think more strategically when battling in the Great and Ultra Leagues, where there are specific CP limitations.
Battle League's requirements:
Great League: 1,500 CP limit per Pokémon
Ultra League: 2,500 CP limit per Pokémon
Master League: No CP limit per Pokémon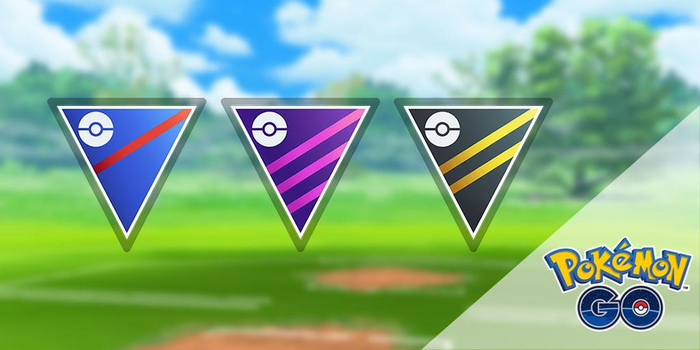 Source:
https://twitter.com/PokemonGoApp

Article edited on 2018-11-30 04:41:30 by Sunain
Nov 28
In celebration of the arrival of
Pokémon: Let's Go, Pikachu! and Pokémon: Let's Go, Eevee!
, outfits inspired by the ones Brock and Misty's wear in the new games are now available to purchase in Pokémon GO.
Screenshots showing off these new outfits have been added to an Imageboard thread
.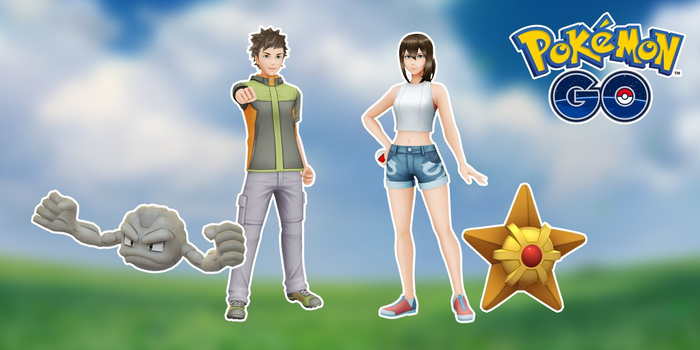 Avatar Outfit Coin Costs:
Brock's Shirt: 300 Coins
Brock's Pants: 250 Coins
Brock's Shoes: 150 Coins
Misty's Top: 200 Coins
Misty's Shorts: 200 Coins
Misty's Shoes: 150 Coins
@PokemonGoApp - November 27th, 2018
In celebration of the arrival of #PokemonLetsGo, avatar items inspired by familiar Gym Leaders from the Kanto region are now available for purchase in the Style Shop. Do you know who these avatar items are inspired by?
Source:
https://twitter.com/PokemonGoApp/status/1067946310567903237

Article edited on 2018-11-28 10:34:53 by Sunain
Nov 21
Niantic announced on their Pokémon GO Twitter feed that Pokémon storage for Pokémon GO has been expanded to 2000.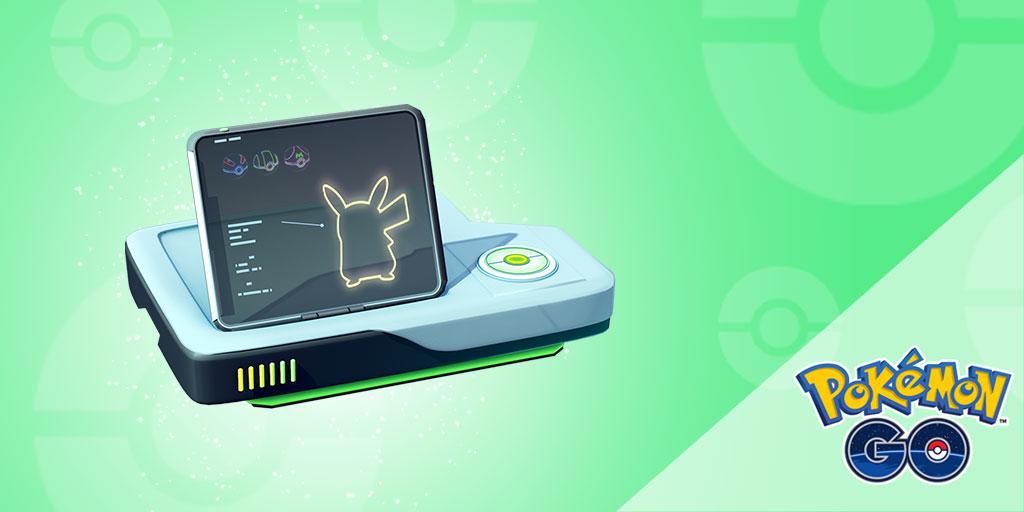 Pokémon Storage Expanded to 2000
Attention, Trainers! The limit on Pokémon storage has now been expanded to 2000. Thank you for your patience and good luck on all of your Pokémon GO adventures.
Source:
https://twitter.com/PokemonGoApp/status/1065368391257677824

Article edited on 2018-11-21 09:13:12 by Sunain