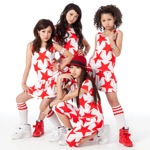 X海峡 Y景色 / ピースマイル! (iTunes)
Also known as:
| | |
| --- | --- |
| | The X Strait and the Y Scenery / Peacsmile! |
Artist(s):
J☆Dee'Z
J☆Dee'Z
Catalog #
id783547904
Release Date
2013-11-13
Discs/Tracks
5 Tracks on 1 CD
Price/MRSP
1250yen
Run Time
00:00:00
Average Rating
Description
The first and second ending themes to the Japanese XY anime.

The album was first added November 13th 2013, consisting solely of the "Anime Size Ver.". The "Anime Size Ver. 2" was added December 18th, while the "Anime Size Ver. 3" and the full version of the song got added January 15th 2014.

The album list on iTunes was adjusted on May 28th, 2014 to include the second ending theme as well.
Pictures
Track List
Disc
Track
Title
Length
1
1

X海峡 Y景色

[Lyrics]

The X Strait and the Y Scenery

4:19
1
2

X海峡 Y景色(アニメサイズver.)

[Lyrics]

The X Strait and the Y Scenery (Anime Size Ver.)

1:20
1
3

X海峡 Y景色(アニメサイズ2ver.)

[Lyrics]

The X Strait and the Y Scenery (Anime Size Ver. 2)

1:20
1
4

X海峡 Y景色(アニメサイズ3ver.)

[Lyrics]

The X Strait and the Y Scenery (Anime Size Ver. 3)

1:20
1
5

ピースマイル!(アニメサイズver.)

[Lyrics]

Peacsmile! (Anime Size Ver.)

1:21