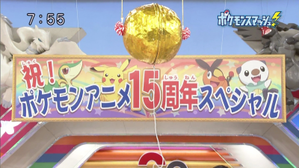 Available On:
2012-04-01 ポケモン!きみにきめた! (デジタルリマスター版) / アニメ「ポケモン」15周年記念スペシャル、松本梨香さんが登場! / 15年間の映画情報 / 懐かしいポケモンたちがお祝いに!
2012-04-01 Pokémon! Kimi ni kimeta! (digital remaster-ban) / Anime 'pokémon' 15shūnen kinen special, Matsumoto Rica-san ga tōjō! / 15-nenkan no eiga jōhō / Natsukashii Pokémon-tachi ga oiwai ni!
2012-04-01 Pokémon! I Choose You! (Digitally Remastered Version) / A Special Celebrating the 15th Anniversary of the 'Pokémon' anime, with an Appearance from Rica Matsumoto! / A Feature of 15 Years Worth of Movies / The Dearly Missed Pokémon Join the Celebration!